Thamatic is the rock band that evolved making thought provoking, genre bending music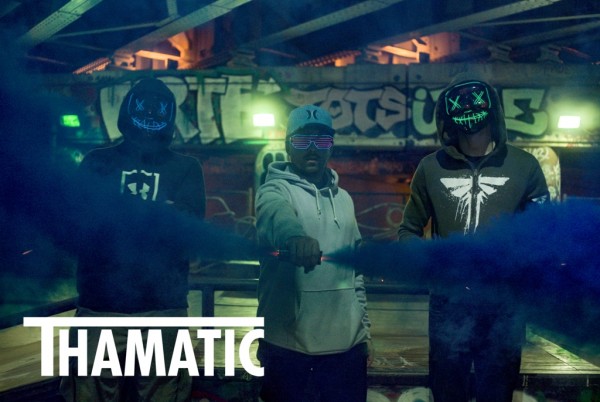 Skillfully paving the way with a unique blend of electronic ambiances and soulful, considerate songwriting, Chicago's Thamatic are an act with a clear vision and passion for the process.
Driving with a string of entrancing releases, from the striking synths of After School through the deeply thoughtful Lorazepam, to their more recent and blissfully melodic "Spacesuit" (Read review by Electro Wow here), the band show no signs of slowing down, and there's nothing at all that can get in their way.
Though the band began with just three key members, the set-up evolved to welcome a team of dozens, each uniquely connected to the music and focused on helping produce brilliantly immersive audio and video experiences for contemporary music fans.
The crisp and compelling sound of Thamatic is the result of over ten years in the zone – creating, writing, mastering the art of meaningful expression and musical embrace all at once. Their ability to walk the line between mainstream pop and alternative, experimental electronica is a huge part of what gives them their edge. So too is their gorgeously poetic and provocative way with writing.
Highlighting a diverse and eclectic approach to artistry, the Thamatic model for creativity is designed to inspire and uplift musicians and artists across the globe – to motivate them towards breaking through boundaries, utilizing every instrument and idea in a freely creative and open manner. They are the ghosts of rock and roll, with an unshakable belief that rock doesn't have to be confined to a handful of instruments.
While 2019 has undoubtedly seen the band reach admirable new heights, this is still very much the beginning. Thamatic is currently unsigned, self-funded and seeking a label to take their music and vision to the next level. The upcoming projects including a self-titled EP and later a full-length album intriguingly titled "The Final Album" which will showcase a climactic gathering of moments from years making music beyond the point at which most musicians inevitably quit. Knowing well and truly that there has never been a better time to be alive or to build a following, Thamatic are set on their dream of continuing and ultimately establishing a legacy.
Read Thamatic's interview on Stereo Stickman Here.
Media Contact
Company Name: Thamatic LLC
Contact Person: Matt The Drummer
Email: Send Email
Country: United States
Website: Thamatic.com