Alternative Solution for Radial Lead MLCC shortage – Replacement of Murata, TDK, Vishay, KEMET, AVX's Monolithic Capacitors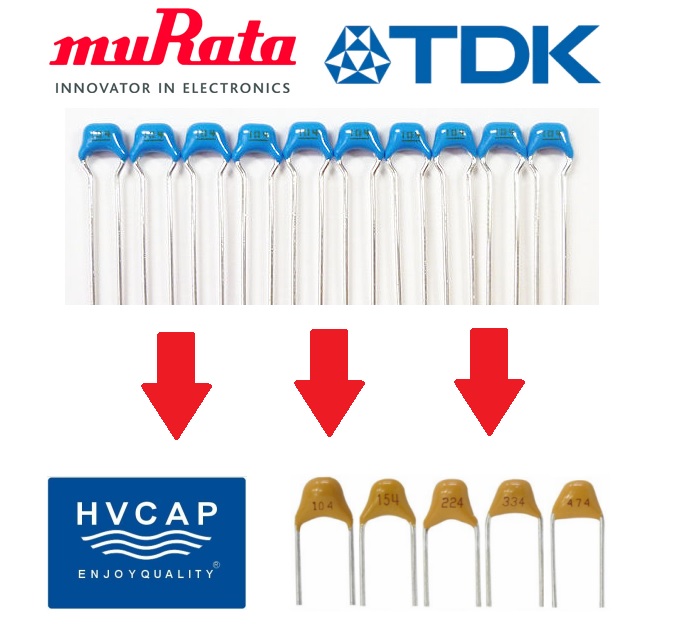 Since 2017, MLCC shortage cause radial lead MLCC also in big shortage, People original using Radial lead MLCC of Murata, TDK, Vishay, KEMET, AVX all seeking qualify alternative manufacturer for this type of ceramic capacitor is quite important for maintaining a running project.
Shenzhen, China – Nov 7th, 2019 – MLCC industry is facing hugh shortage since year 2017. Begining from two major Japanese MLCC manufacturer Murata and TDK, they discontinue most of their common line. However, Radial Lead MLCC (Monolithic Capacitors) being highly affected. And both general purpose and Automotive Radial Lead MLCC also facing same shortage because encapsulate a chip capacitor inside.
HVC Capacitor is good solution for resolving radial MLCC shortage problem. HVC Capacitor good at high voltage ceramic capacitor custom production, it also offer custom production for radial lead type MLCC.
1. HVC Capacitor keeping stock with good amount of Taiwanese Yageo, Walsin and Korean Samsung MLCC, since TDK and Murata quite market, the market share was fulfilled by Taiwanese and Korean competitor. Feasibility of raw MLCC keeping MLCC, HVC can keep short production lead time to 2 weeks.
2. Strong technical background, HVC Capacitor employ electronic engineer from famous Chinese MLCC manufacturer Fenghua, and adopt TS14969 automotive grade production system.making HVC's radial MLCC in high quality standard for both general and automotive grade.
3. HVC's radial MLCC major application is noise filtering for motor industry, home appliance industry,smart metering industry, and power supply appliance. Famous client like MEDIA, BYD, GREE, HPL Electric and many big names.
4. HVC have strong experience to product unusual spec of radial lead type MLCC: such as 1210,1812,2220,3035 big size and Capacitance up to 20uf, voltage up to 1kv, have on hand experience of replacing Vishay and Murata lead mlcc to HVC item.
Following cross reference for well known brand frequently item to HVC Capacitor.
| | | |
| --- | --- | --- |
| Murata item | Specification: | HVC PN:Replacement / Alternative / Cross Reference |
| RDER71H225K2K1H03B | 2.2uF 50V X7R 10% | HVC-R0805B225K50VP5 |
| RDER71H105K2M1H03A | 1uF 50V X7R 10% | HVC-R0603B105K50VP5 |
| RDER71H105K2K1H03B | 1uF 50V X7R 10% | HVC-R0805B104K50VP2 |
| RDER71H104K0S1H03A | 0.1uF 50V X7R 10% | HVC-R0805B104K50VP2 |
| RDER71H104K0P1H03B | 0.1uF 50V X7R 10% | HVC-R0805B104K50VP2 |
| RDER71H104K0M1H03A | 0.1uF 50V X7R 10% | HVC-R0603B104K50VP5 |
| RDER71H103K0M1H03A | 0.01uF 50V X7R 10% | HVC-R0603B103K50VP5 |
| RDE5C1H220J0P1H03B | 22pF 50V C0G 5% | HVC-R0805N220J50VP2 |
| RDE5C1H101J0K1H03B | 100pF 50V C0G 5% | HVC-R0805N101J50VP5 |
| RDER71H104K0K1H03B | 0.1uf 50V X7R 10% | HVC-R0805B104K50VP5 |
| RDE5C1H221J0K1H03B | 220pF 50V COG 5% | HVC-R0805N221J50VP5 |
| RDE5C1H561J0K1H03B | 560pF 50V NP0 5% | HVC-R0805N561J50VP5 |
| RDE5C1H681J0K1H03B | 680pF 50V C0G 5% | HVC-R0805N681J50VP5 |
| RDE5C1H331J0K1H03B | 330pF 50V NP0 5% | HVC-R0805N331J50VP5 |
| RDER71H331K0K1H03B | 330pF 50V X7R 10% | HVC-R0805B331K50VP5 |
| RDE5C1H821J0K1H03B | 820pF 50V NP0 5% | HVC-R0805N821J50VP5 |
| RDER71H332K0K1H03B | 3300pF 50V X7R 10% | HVC-R0805B332K50VP5 |
| RDE5C1H562J1K1H03B | 5600pF 50V NP0 5% | HVC-R0805N562J50VP5 |
| RDE5C2A821J0M1H03A | 820pF 100V NP0 5% | HVC-R0805N821J100VP5 |
| RDER73A103K2K1H03B | 10nF 1000V X7R 10% | HVC-R1206B103K1KVP5 |
| RDEC71H106K3K1H03B | 10uF 50V X7S 10% | HVC-R0805S106K50VP5 |
| RDER71H225K2M1H03A | 2.2uF 50V X7R 10% | HVC-R0805B205K50VP5 |
| RPEF11H104Z2K1A01B | 0.1uF 50V Y5V 20% | HVC-R0805B104M50VP5 |
| RDER71H104K0K1H03B | 0.1uF 50V X7R 10% | HVC-R0805B104K50VP5 |
| RDEF11H104Z0K1H01B | 0.1uF 50V Y5V 20% | HVC-R0805B104M50VP5 |
| RD15F104Z1Hl2l | 0.1uF 50V Y5V 20% | HVC-R0805B104M50VP5 |
| RPER11H104K2K1A01B | 0.1uF 50V Y5R 10% | HVC-R0805B104K50VP5 |
| RD15F105Z1HH5L | 0.1uF 250V X7R 10% | HVC-R0805B104K250VP5 |
| RPEF11H104Z2P1A01B | 0.1uF 50V Y5V 20% | HVC-R0805B104M50VP5 |
| | | |
| TDK item | Specification: | HVC PN:Replacement / Alternative / Cross Reference |
| FG16X7R1E106KRT06 | 10uF 25V X7R 10% | HVC-R1210B106K50VP2 |
| FG20X7R1H106KRT06 | 10uF 50V X7R 10% | HVC-R1210B106K50VP5 |
| FG20X7S1H106KRT06 | 10uF 50V X7S 10% | HVC-R1210B106K50VP5 |
| FG28X7R1H104KNT00 | 0.1uF 50V X7R 10% | HVC-R0805B104K50VP5 |
| FG28X7R1H104KNT06 | 0.1uF 50V X7R 10% | HVC-R0805B104K50VP5 |
| | | |
| AVX item | Specification: | HVC PN:Replacement / Alternative / Cross Reference |
| SR211A221JAR | 220PF 100V COG 5% | HVC-R1210N221J100VP5 |
| SR305E105MAR | 1uF 50V Z5U 20% | HVC-R1812V105M50VP5 |
| SR215E104MAR | 0.1uF 50V Z5U 20% | HVC-R1210V104M50VP5 |
| SR151C103KAR | 0.01uF 100V X7R 10% | HVC-R0603B103K100VP2 |
| SR215E104MAA | 0.1uF 50V Z5U 20% | HVC-R1210V104M50VP5 |
| SR201C104KAR | 0.1uF 100V X7R 10% | HVC-R1210B104K100VP2 |
| SR211C104KAR | 0.1uF 100V X7R 10% | HVC-R1210B104K100VP5 |
| SR215C104KAA | 0.1uF 50V X7R 10% | HVC-R1210B104K50VP5 |
| SR151A220JAR | 22pF 100V C0G 5% | HVC-R0603N220J100VP2 |
| SR205C104KAR | 0.1uF 50V X7R 10% | HVC-R1210B104K50VP2 |
| SR211C103KAR | 0.01uF 100V X7R 10% | HVC-R1210B103K100VP5 |
| SR151A101JAA | 100pF 100V C0G 5% | HVC-R0603N101J100VP2 |
| SR211A681JAR | 680pF 100V C0G 5% | HVC-R1210N681J100VP5 |
| SR215C224KAR | 0.22uF 50V X7R 10% | HVC-R1210B104K50VP5 |
| | | |
| KEMET item | Specification: | HVC PN:Replacement / Alternative / Cross Reference |
| C315C102K1R5TA | 0.001uF 100V X7R 10% | HVC-R0805B102K100VP2 |
| C315C103K1R5TA | 0.01uF 100V X7R 10% | HVC-R0805B103K100VP2 |
| C315C103K5R5TA | 0.01uF 50V X7R 10% | HVC-R0805B103K50VP2 |
| C315C474K5R5TA | 0.47uF 50V X7R 10% | HVC-R0805B474K50VP2 |
| C320C104K1R5TA | 0.1uF 100V X7R 10% | HVC-R1210B474K100VP2 |
| C320C104K5R5TA | 0.1uF 50V X7R 10% | HVC-R1210B474K50VP2 |
| C320C223K1R5TA | 0.022uF 100V X7R 10% | HVC-R1210B223K100VP2 |
| C320C224K5R5TA | 0.22uF 50V X7R 10% | HVC-R1210B224K50VP2 |
| C320C154K5R5TA | 0.15uF 50V X7R 10% | HVC-R1210B154K50VP2 |
| | | |
| Vishay item | Specification: | HVC PN:Replacement / Alternative / Cross Reference |
| K101J15C0GF53l2 | 100pF 50V C0G 5% | HVC-R0805N101J50VP2 |
| K102J15C0GF53l2 | 0.001uF 50V C0G 5% | HVC-R0805N102J50VP2 |
| K151J15C0GF53l2 | 150pF 50V C0G 5% | HVC-R0805N151J50VP2 |
| K471J15C0GF5Tl2 | 470pF 50V C0G 5% | HVC-R0805N471J50VP2 |
Click following to know detail of HVC Radial MLCC:
https://www.hv-caps.com/Radial_Leaded_MLCC_Monolithic_Ceramic_Capacitor_/2019/0203/579.html
Media Contact
Company Name: HVC Capacitor Manufacturing Co., Ltd.
Contact Person: Danny Chen
Email: Send Email
Phone: +86 13689553728
Address:9B2, Tianxiang Building, Tianan Cyber Park Futian
City: Shenzhen
State: GD
Country: China
Website: www.hv-caps.com