JP4 Foundation Announces Camps for Kids 2nd Annual Holiday Party, A Benefit Supporting Local Twin Cities Baseball Camps
Vadnais Heights, MN – The JP4 Foundation, a foundation dedicated to enriching young lives through baseball, has announced the Camps for Kids 2nd Annual Holiday Party. The 2nd Annual Holiday Party will be hosted on Saturday, December 14, at Jimmy's Event Center, 3565 Labore Road, Vadnais Heights, Minnesota 55110.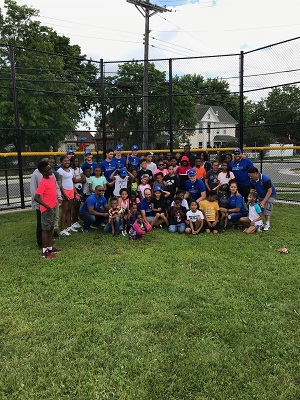 At the 2nd Annual Holiday Party, attendees and sponsors give the gift of baseball. The special fundraising night will include dinner and music, as well as a dessert dash, silent auction, and much more, to benefit the local baseball community in the Twin Cities. In 2019, the JP4 Foundation committed 2,000 service hours to provide 475 children with access to baseball, up from 200 service hours for 24 children in 2016. In celebrating this fourth year of explosive growth, attendees and sponsors will make valuable contributions and investments toward youth programs in Minneapolis and St. Paul, allowing kids and their families, who otherwise may be unable, to experience the impact of baseball.
All proceeds for the event will go toward funding 2020 baseball camps, such as by providing nutritional lunches, coaches, equipment, and apparel to children in the Minneapolis, South Minneapolis, and East Saint Paul communities.
This year's event is made possible by generous community sponsors, such as Cargill and Twin Cities Orthopedics. Single ticket and group table tickets, as well as business sponsorships, remain available.

Registration for the event will be open until Friday, December 6. To purchase tickets, please visit https://one.bidpal.net/camps4kids/welcome. Proceeds from sales directly fund JP4 Foundation programs and increase awareness for its outreach and community engagement efforts.
"We started the original foundation because we felt a responsibility to empower athletes to be outstanding citizens," said Adam Barta, the JP4 Foundation Chairman. "And I wanted to ensure that finances would not be an insurmountable obstacle for families to play baseball. Baseball provides so many life lessons, including culture, a sense of family, being a good teammate, accountability, loyalty and so much more. Those are life skills that shouldn't be impacted by finances."
About JP4 Foundation
The mission of The JP4 Foundation is to enrich the lives of youth through baseball. By providing opportunities to youth and young adults via scholarship and education, the JP4 Foundation inspires outstanding citizens, students, and athletes. JP4 utilizes a three-pronged approach to this mission, focusing on Player Scholarship, Johnny Price Memorial College Scholarship, and Community Outreach/Service Learning.
To learn more about the JP4 Foundation, please visit JP4Foundation.org.
Media Contact
Company Name: JP4 Foundation
Contact Person: Jeff Huth
Email: [email protected]
Phone: 763-242-2125
Address:3200 Labore Rd., Suite 102
City: Vadnais Heights
State: MN 55110
Country: United States
Website: www.jp4foundation.org