Multicurrency crypto wallet WestWallet, one-stop solution for securely storing and managing multiple cryptocurrencies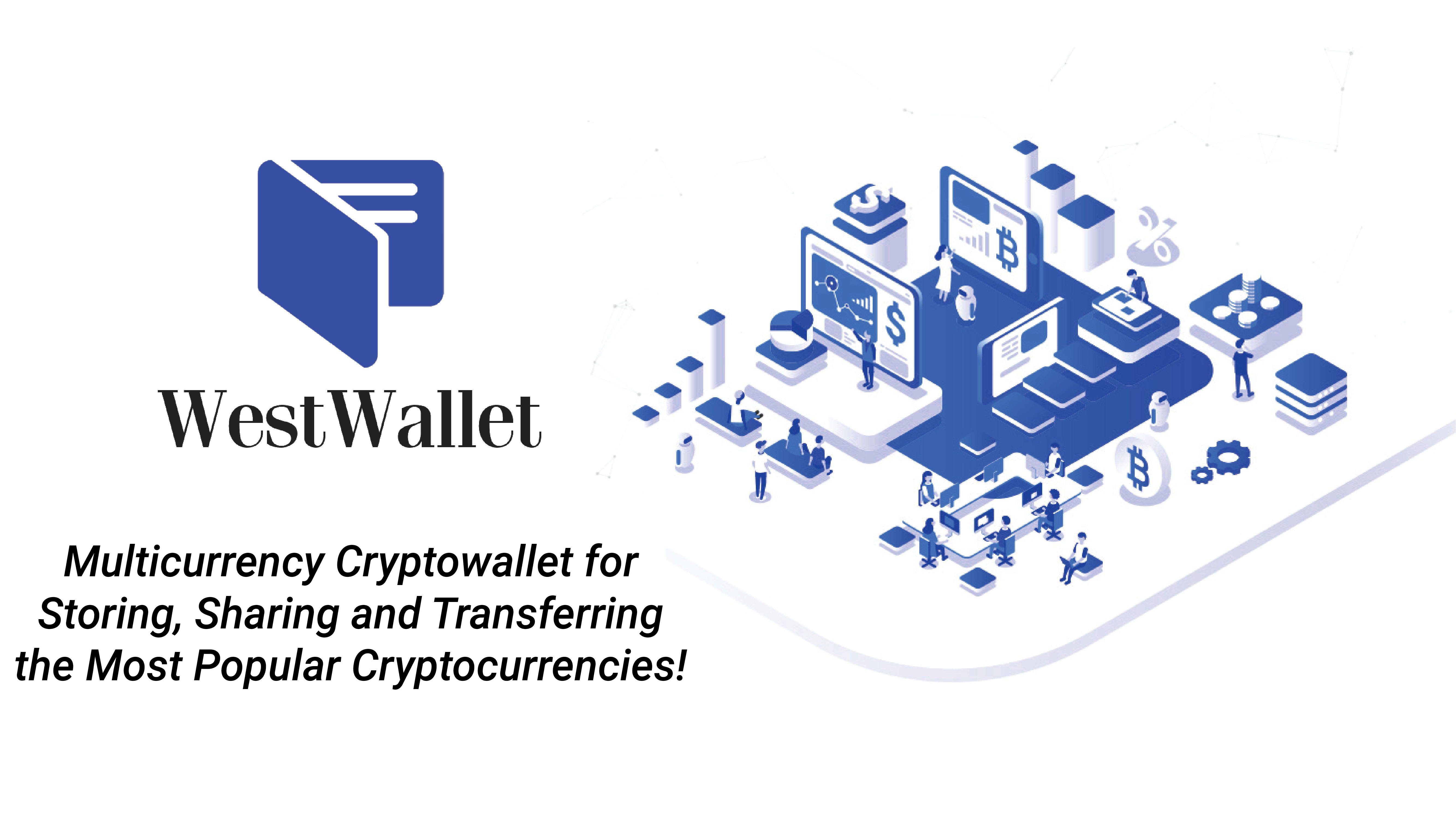 A recent survey by the Nobl Insurance group suggested that mass cryptocurrency adoption is just around the corner and by 2030 70% of Americans would own and use cryptocurrency in their day to day life. The crypto space is a mere 10 years old and by now it has become one of the lucrative forms of investment with high risk and high returns.
As of today traders big and small are investing in multiple cryptocurrencies to minimize the risk and managing their digital assets becomes a complex task. Since losing a digital asset because of forgetting the wallet password or the private key is quite common since most of the crypto wallets in the market are designed for a particular token consensus or type of token and one cannot store multiple types of cryptocurrencies in one place. WestWallet solves this issue with its multi-currency support with top security features.
Multicurrency crypto wallet WestWallet allows users to save a wide range of cryptocurrencies be it ERC-20 based tokens or privacy coins, the wallet supports a wide range of cryptocurrencies.

Users can store Bitcoin, Bitcoin Cash, Bitcoin SV, Bitcoin Gold, Ethereum, Ethereum Classic, Litecoin, Dash, Zcash, Tether, Binance Coin, Ripple, Stellar, Dogecoin, Tron, EOS, Monero, Neo, TrueUSD, USD Coin and in total 20 cryptocurrencies at present while the developers are looking to increase that number to 50 cryptocurrencies in near future.
The modern-day multi-currency wallet promises support a ton of feature along with it which help you store, transfer and trade multiple cryptocurrencies from one place. Managing your broad cryptocurrency trading portfolio from a single wallet can have many added benefits like –
Buy, sell and store 20 cryptocurrencies from one place.
Easy accessibility to all your crypto assets
Storing and transferring becomes seamless.
Saves you a lot in transaction fees as you use a single platform.
Convert one crypto to another depending upon your trading needs.
Built-in the P2P market place help you find sellers for the choice of your cryptocurrency instantly.
Some of the most attractive features on the platform include instant transactions between two WestWallet users where the transaction amount is credited into the receiver's wallet instantly without any wait for the network confirmation. The platform has a simple 2 step registration and verification process that allows you to get started almost immediately.
WestWallet: Fast, Secure, Convenient and Versatile
WestWallet promises to provide ultra-fast transaction speeds with instant transactions between the same wallet users and it costs zero commission fee for transfer between the users of the WestWallet. This can help in saving a lot of costs for freelancers and small traders who can benefit from commission-free transactions on any of their settlements.
The platform also makes use of evolving scalable solutions for facilitating seamless Bitcoin transactions and in order to fulfill that the wallet comes equipped with Bitcoin second layer scalable solution SegWit Bech32. At present, the platform's website claims to process 30,000 transactions per day. The wallet makes use of 2-factor authentication before processing any funds out of the wallet where you will be asked to authorize the transactions via e-mail or Google Authenticator.
The platform comes with an open-source easy to integrate API which anyone can use to integrate with their personal website and then transact in cryptocurrencies right from their website. At present, there are in total of 734 websites that have integrated the WestWallet API on their platform and have been enjoying seamless crypto transactions.
The WestWallet can be integrated with popular messenger app Telegram which would allow the user to manage all their crypto funds right from the messenger dashboard. Given the rising user base of the Telegram app, the move can actually help the wallet see better adoption.
The P2P marketplace and growing user base
WestWallet is owned by an EU based WestGroup Inc who also has the license to operate in the EU. The platform has managed to garner a user base of 4,500 very swiftly in a small-time frame. Loads of features and cost-savings surely helped the platform garner public interest. Some of these key features include a P2P market place within the wallet application that allows the users to match with other users with the cryptocurrency they need.
The platform promises to provide optimum security features for safeguarding customer's digital assets against any kind of cyber-attack and also plans to launch a mobile version of the wallet for both the Android and iOS platforms. This would allow the users to keep a tab on their digital assets at any given time.
The WestWallet not only helps the customers in cost saving by making transactions between two WestWallet users commission freeze but its pro version which is specifically designed for regular retail merchants and cooperate users who make multiple transactions on a daily basis. The Pro version of the WestWallet has a fixed monthly charge, which allows users to make multiple transactions in the month on a fixed charge, thus helping them save a lot of cost on transaction fees.
Conclusion
Managing the digital asset has become a daunting task in this age of increased cyber crimes. Traders not only need to keep their funds secure but also ensure that it can be easily transferable. WestWallet fulfils the modern trader's need by providing multiple currency support so that the users do not have to manage multiple wallets for different cryptocurrencies.
The wallet comes with all the facilities it would take to manage a portfolio of multiple cryptocurrencies, where you can store, transfer and receive funds. The wallet also helps in cost savings with commission-free transactions for WestWallet users, while the charges to transfer to other wallets are comparatively low as well.

WestWallet in social networks:
https://www.facebook.com/WestWallet.official/
https://twitter.com/WalletWest
Media Contact
Company Name: WestGroup Inc
Contact Person: Mikhail
Email: Send Email
Phone: +46 462880566
Country: Sweden
Website: https://westwallet.info/