Grand Opening of Cool Color Photos with Free Online Art Exhibition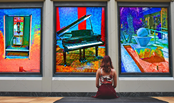 Interested parties worldwide can go to the Cool Color Photos website and enjoy Lawrence's unique artwork anytime
LOS ANGELES, CALIFORNIA – Jan 2, 2020 – Andrew Lawrence, a California photographic artist, recently announced the grand opening of his artistic enterprise, Cool Color Photos. To celebrate, Lawrence has launched a free online art exhibition of his art that is open 24/7. There is no obligation, no sign up, no sign in, the exhibition is 100% free to everyone, anywhere.
A high fashion photographer for over 20 years, Lawrence now creates the Cool Color Brand; original photographic wall art for collectors, interior designers and anyone decorating their home or business who loves color. In his creative photographic art, Andrew Lawrence takes objects in his environment and turns them into bright colorful images that evoke positive emotions, bright colors that evoke beauty, and uplift the spirit.
With his Cool Color Photos, Andrew takes "normal" photos, items from his environment and photographically and artistically turns them into cool colorful photo art that brightens your day and gladdens your heart. Cool Color Photos. They're cool. They're colorful. They're photos. Many of his Cool Color Photos look more like paintings than photographs.
About Cool Color Photos
Cool Color Photos brings warm California color to any space, any room, be it home, office or commercial establishment. Though based in trendy Los Angeles, Cool Color Photos can be employed and enjoyed by anyone, anywhere, who loves bright colors and wants to brighten a space, large or small.
Right now, art lovers and interested parties can visit the Cool Color Photos website and view dozens of Lawrence's unique artwork. The free exhibition can be accessed directly via https://www.coolcolorphotos.com/
Media Contact
Company Name: Cool Color Photos
Contact Person: Andrew Lawrence
Email: Send Email
Country: United States
Website: https://www.coolcolorphotos.com/