Not All Black Hebrew Israelites Are Violent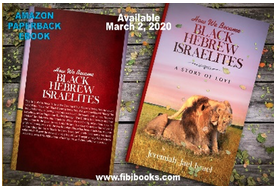 How We Became Black Hebrew Israelites, A Story of Love is a biographical journey written by Jael and Jeremiah Israel.
Jeremiah, and Jael Israel are proud to debut their new book, "How We Became Black Hebrew Israelites," available at Amazon.com.
Contemporary visionaries and two of the newest African American authors, Jael and Jeremiah Israel, combine their personal experiences along with scientific evidence and resources to bring us an alternative view on who exactly modern Black Hebrew Israelites are in the world today.
What others are saying –
"Finally, someone who offers an unconventional perspective about the many Hebrew Israelites living amongst us today." – Solomon Yasharahla
"The book is a masterful creation; it provides a refreshing view and a different opinion on the Black Hebrew Israelites." – Jennifer Goodwin
"How We Became Black Hebrew Israelites" is a 'must-read" for any African-American that is interested in further research and evidence of their real history." – Dr. Jack Bingham
About the authors
"How We Became Black Hebrew Israelites" is part of the "For Israelites By Israelites" series of books, by authors Jeremiah and Jael Israel. Other books in the series include, Proof Jesus is Not God, Who Are The Gentiles, The Tithing Deception, The Law Vs. Grace and The Virgin Mary Deception. All these books are great works of research and are packed with useful content and life-changing revelations that will educate the reader about Jeremiah and Jael's truth of religion and faith. The book, "How We Became Black Hebrew Israelites" also takes readers on a journey with the authors as they attempt to figure out life, family, love, and marriage. Readers with struggle and triumph with the authors every step of the way.
If you would like to know when Jael and Jeremiah's next book will be released or for additional information and pictures along their journey, please visit their website.
Media Contact
Contact Person: Jael Jeremiah Israel
Email: Send Email
Phone: 404-797-7806
Country: United States
Website: www.fibibooks.com