Join Dan and Linda McGarry on their fun and lively podcast as they Travel America One Coffee-Shop at a Time on the "Cross Country Coffee Roadshow"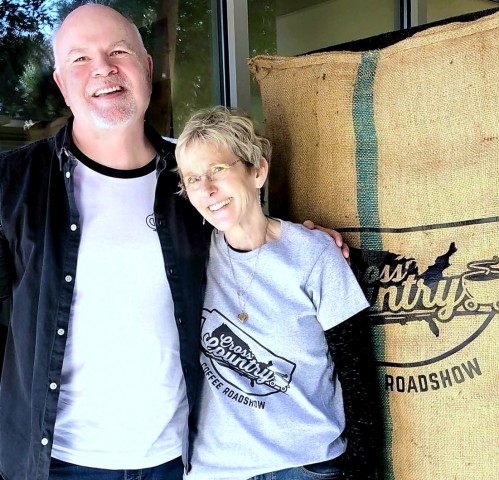 As they both say, "drink what you like, and like what you drink", Dan & Linda have set out to desnobify coffee tasting, and at the same time meet some entertaining characters on their weekly podcast, "Cross Country Coffee Roadshow". Everyone who drinks coffee is curious to know the major and minor nuances of their favorite cup of java, and speak authoritatively. This podcast does that, with their live recordings, each week inside a different independent coffee-shop. Coffee, knowledge, no intimidation and laugh and cry stories, as you learn more about the" black gold" you find yourself exposed to touching human interest stories, not heard anywhere else. The podcast is hosted by Dan and Linda McGarry who make sure that no one leaves until they find just the right style of coffee for their listeners.
There are two seasons to this podcast as of right now, and both the seasons have just one objective in mind: find the best independent coffee and coffee-shops in America "One Coffee-Shop at a Time". The McGarrys have decided to divide their seasons and focus based on famous American Highways. Their fist year was the iconic Route 66 and this last season the Pacific Coast Highway snaking up the California, Oregon, Washington coast. They make a point of mentioning that they only stop at the best "independent coffee houses". Their guests are owners, baristas, local patrons musicians, and community advocates. The goal is to derive as many unknown facts about these shops as possible. This is what makes this podcast unique and interesting at the same time. The podcast holds your attention, with a wide variety of guests while the style is very "conversational", like you're eavesdropping at your favorite coffee shop.
On the podcast "Cross Country Coffee Roadshow", in addition to the varied guests, and coffee info Dan & Linda make sure to mix humor with tragedy… yes you will laugh, and cry often in the same episode. While being entertained however is nice, one of the most amazing things about this podcast is that the listeners can also learn all aspects of coffee from origins, harvesting, roasting, to that first heavenly sip.
Find your palate, and meet java novices, connoisseurs, and world-renowned experts. "We will transport you through an audio experience to great and unique coffee shops across this amazing country", proclaims hosts Dan and Linda McGarry. We agree with the statement drink what you like and let this podcast help you do that!
You had us at coffee. Remember everybody has a story to tell.
Listen to the podcast now on Apple, Google Podcasts Spotify, Pandora ,IheartRadio, or wherever you normally download your podcasts.
Apple: https://podcasts.apple.com/us/podcast/cross-country-coffee-roadshow/id1406171186
Spotify: https://open.spotify.com/show/5jZT3f5VnB6eo4bAEMpnpF
Google: https://podcasts.google.com/?feed=aHR0cHM6Ly9jcm9zc2NvdW50cnljb2ZmZWVyb2Fkc2hvdy5jb20vZmVlZC9wb2RjYXN0Lw
Pandora: https://www.pandora.com/podcast/cross-country-coffee-roadshow/PC:20169
Media Contact
Company Name: SAGG
Contact Person: Linda/Dan McGarry
Email: Send Email
Phone: 608-219-6159
Country: United States
Website: crosscountrycoffeeroadshow.com