Joe Jasin, Managing Director of Silicon Valley based Seed Investment firm DNA Partners talks to RJ Shara about Tech, Economy, and 5G on The Silicon Dreams on Radio Zindagi 1170AM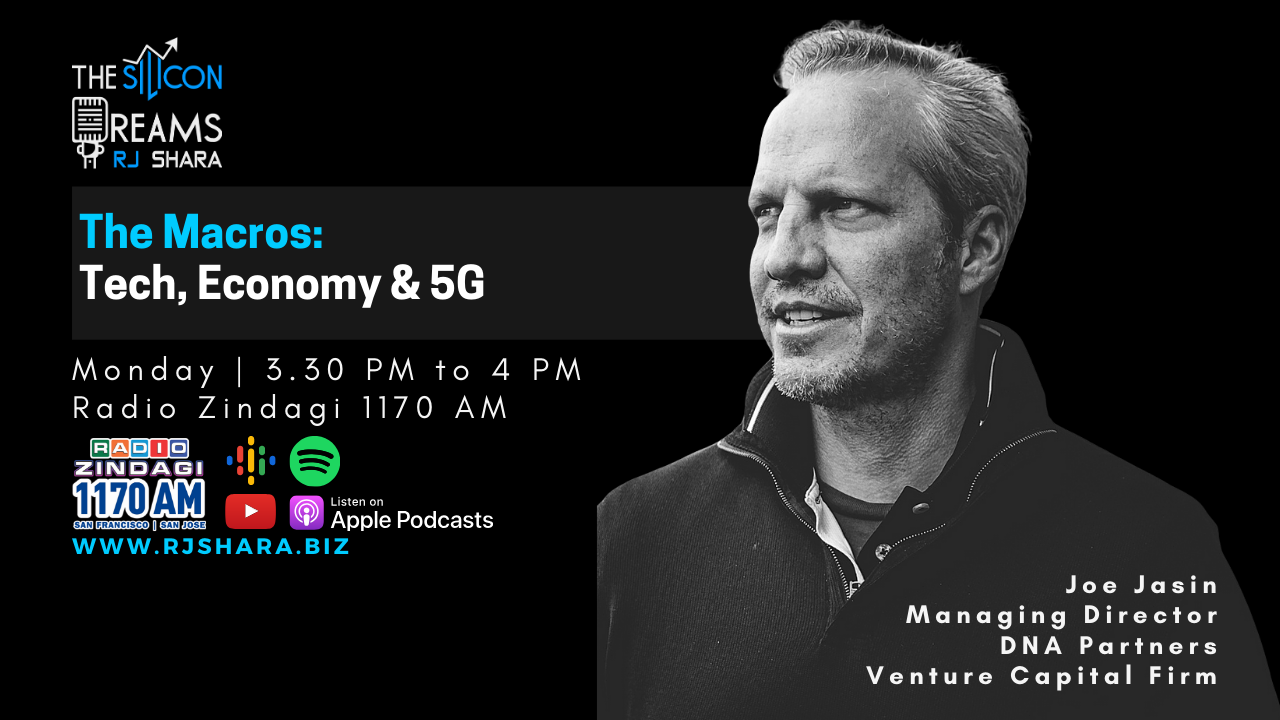 Joe Jasin from DNA Partners is a seasoned executive and investor with portfolio companies in both The United States of America and also China. Joe has decades of experience in the telecommunications domain since the start of his career with 3G. Joe has also dealt with governments across the globe in both free market economies as well as command economies. Joe discusses the 5G evolution, navigating the governments and investments in this episode and podcast of The Silicon Dreams.
What is the vision of DNA Partners
DNA Partners invests in the category of Seed Round investing between 50,000 USD to 500,000 USD in US and China. Their portfolio investments are split between the two countries across companies that operate in the digital media value chain technologies space. The investment amounts are limited in the range of 50k to 500k USD but the valuations in both these countries are extremely different.
Joe Jasin as an individual
Joe talks to RJ Shara about his history as an executive working with small to big companies in Profit and Non Profit space in United States and in Asia. He also founded two companies which had a successful exit. His first company – Ice Wireless was founded in 1998 and had an exit in 2000. His corporate portfolio was focused around the evolution of wireless communication during which time he had to interact closely with governments in United States, Middle East and Asia. He also founded a mobile developer's group in the Silicon Valley which is still running successfully after 16 years.
Video Link: https://www.youtube.com/embed/b7n2x9GykcY
What's next for 5G and what are the barriers to adoption
Joe and RJ Shara talk about the wireless evolution. Joe explains how 3G was a revolution in itself as it allowed for a breakthrough wireless communication allowing analog voice and digital data to be transmitted. In 4G, voice could have been digital but mobile operators chose to keep the voice analog. However in 5G everything will be digital and over TCP/IP which will be another breakthrough in itself. The governments are allocating more wireless spectrum to support 5G which has them competing against each other and this is being driven by consumer demand.
Will 5G change how broadband is used in rural areas
Since wireless provides more opportunity to access internet in ways not possible with wired connections, the 5G evolution will help boost rural use cases. RJ Shara asks Joe if humans need to worry about the frequencies and radiations transmitted by 5G. Joe explains that everything around us – electricity, bluetooth, radio, etc. is feeding us frequencies continuously. The regulations might change from country to country however since there is international competition and consumer interest in broadband above ground, the regulations will lessen with time.
What is the governments' role in strategy building for startups and corporations
The free enterprise or free market economy like The United States of America allows multiple competitors to exist in the same space which typically provides room for innovation. However in command economies or the top down approach, governments are more proactive in dictating protocols, etc. to be used in technology. There are pros and cons to both and there isn't a right or wrong approach. In most Asian companies as compared to the USA, corporations and startups wait for governments to release the protocols and guidelines before they can start work. The former is a proactive government while latter is a reactive government.
US and China are locked in a battle of patent numbers, however what's more important is how many of these patents are commercialized
What are other areas of interest for DNA Partnerts besides telecommunication
Joe Jasin explains that DNA Partners deals with IP communication vs telecommunication where the former is a newer technology that surrounds us everyday like Zoom, Webex, etc. where the entire communication happens over TCP/IP. However besides IP Communication, DNA Partners and Joe Jasin also work with Digital Media Infrastructure companies.
Silicon Valley isn't innovating enough on consumer media digital solutions
We have been using dated technology since the double click days and there is a huge scope of innovation in the space of advertisement and consumer media. The same can be said for enterprise space as well. Joe Jasin and his partner have come up with 17 business and revenue models that are waiting for takers. Those interested in getting a copy of these business models can contact Joe Jasin over email at [email protected] (Joe stays away from social media purposefully as he doesn't want these to compromise his security and privacy).
Interacting with companies in Asia
Joe Jasin has worked with companies in Thailand, Singapore, etc. and DNA Partners is currently evaluating a company in Philipines to invest in. Joe also tells RJ Shara that he is inspired by Sri Lankan born entrepreneur, Chamath Pahilapitiya, the Founder of Social Capital. Joe urges entrepreneurs and businessmen to follow Chamath for inspiration and valuable insights. Joe states that Asia has access to some great talent and he has been fortunate to work with the countries in this region.
What do you think of COVID and its impact on businesses
Joe mentions to RJ Shara that he takes COVID very seriously and is doing his best to follow the Shelter in Place orders. He talks about how this is a time for people to come together and pull each other out of this crisis.
We need to fight COVID and not each other during these testing times
Joe also opines that this crisis calls for more transparency in the world of startups and businesses. Investors and companies will have to be more transparent with each other to share an honest assessment of where they are and to be able to navigate the path ahead.

Joe Jasin
Managing Director | DNA Partners LLC
Joe Jasin has built a 20+ year international career within the Mobile-Wireless and Digital Media-Technologies industries; participating in the converging commercial industries of the internet protocol – TCP/IP and the associated technology convergence of ecosystems'. He has been proactively establishing cross-border relationships and presence in the USA and Asia.
Presently, Joe Jasin is Managing Director of DNA Partners, LLC an early stage venture investment firm. DNA invests in digital-media value-chain technology companies, based in the USA and China. Mr. Jasin spends about 20 to 30 percent of his time in Asia.
Mr. Jasin is presently in active dialogue with the open-source software community, sourcing and indexing the emerging landscape worldwide, for example: Mozilla–Firefox, Jolla-Sailfish, Samsung-Tizen, Canonical-Ubuntu.
At Polaroid as Vice President of Corporate Development. His role was to compound shareholder value via; strategic investments in consumer electronics and digital media properties. To source emerging technologies and business models associated with 'solution sets' of hardware-software-digital media services leveraging the base of Silicon Valley. To expand general company initiatives in the Asia/China geographic regions.
As a hired advisor with China Mobile Ltd. (Beijing HQ) he worked on a stealth venture capital fund for the ChinaMobile – OPhone ecosystem initiatives.
Mr. Jasin served as Vice President of Corporate Development for SK Telecom, in Seoul Korea. At SK Telecom, his mandate was investments in USA and China. The corporate development team, initiated these activities; China Unicom equity investment, a business operation called Helio Inc., an MVNO, and the venture capital fund of SK Telecom Ventures in Silicon Valley.
In Silicon Valley he is founder and chair of the Software Developer's Forum – Mobile Group, in the trenches cultivating a community of software developers since the year 2000. Joe has now taken that group, and converged them in an entity called DNA Digital, an intelligence think-tank. Nationally he is on the board of the GSMA – Mobile World Congress Innovation Executive Council. Internationally from 2010 to present a formal advisor to the U.S. Department of State; APEC Office of Commerce, working on 5G spectrum allocation alignment between the USA and China/Asia countries.
Joe presents and moderates at conferences regularly in the USA and Asia, and has been quoted in these publications: Wired Magazine, CNBC, South China Morning Post, DevNetwork – Developer Weekly TechFashionWeek, MediaMatters/BrandedAsia and The Economist.
Media Contact
Company Name: 8ty6 – Marketing Intelligence
Contact Person: Media Relations
Email: Send Email
Phone: 4082534000
City: San Jose
State: California
Country: United States
Website: https://8ty6.co