Find escape in a dystopian styled science fiction story from Adric Laser's brand new dark and mysterious sci-fi universe "Dystopity"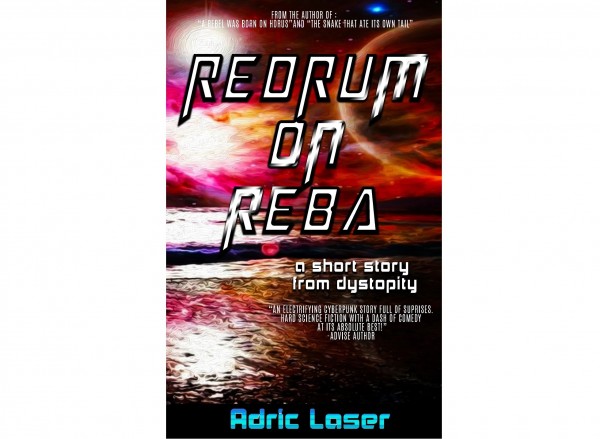 Born in San Francisco, California, Adric Laser is an accomplished American novelist, critic, public speaker, essayist, and columnist. Adric has made some remarkable contributions in the world of literature, specifically in the popular genre of hard science-fiction. He currently self-publishes in association with Advise Author Publishing, a small author-focused company dedicated to bringing exposure to talented and rather undiscovered authors. It is said that people are simply a product of their experiences, and without a doubt, Adric's experience in a wide array of fields has given him a unique ability to create immersive space operas, cyperpunk adventures and hard science fiction novellas. His previous experience of working in the entertainment industry probably contributed a lot to his ability to build powerful character-driven sci-fi stories that appeal to readers of all ages.
Adric recently released a few short novellas, part of a greater Dystopity collection of books he is currently in the process of writing and publishing. The stories share a commonality in the sense that they are all set in a similar universe with overlapping storylines. The stories are expertly written in a way that includes some of the same interesting and unique characters at different points in their lives weaved into the many published stories. This can be contributed to creating a truly immersive experience for avid fans and makes it a lot of fun to read every story from cover to cover to connect the dots. The current published works from Dystopity include 3 full-length novellas, which recently became available for sale in the Amazon Kindle store in early to mid-2020.
Current titles include "The Snake That Ate Its Own Tail", "A Rebel Was Born on Horus" and "Redrum on Reba." The stories were released on May 31, 2020, June 4, 2020, and June 29, 2020, respectively. Beyond the captivating titles, each story is based on a compelling plot that applies a solid focus on character development and a fast-paced, action-packed progressive storyline.
According to Adric Laser himself, "Dystopity" itself was a sort of made-up word he found interesting combining the words dystopia and pity in an attempt at a witty sort of wordplay wanting to make it clear to his readers that we should all, "have pity for those who find themselves living in a dystopian world or galaxy for that matter."
Many describe the characters in Adric Laser's stories of being unusually life-like and relatable, almost as if they actually existed in some sort of parallel universe.
Apart from writing fiction, Adric has also written three books on creative writing. His keen interest in fiction and fantasy has led him to become a member of several prominent science fiction based organizations. He is also a member of the 'Science Fiction and Fantasy Club,' a group dedicated to supporting its community of talented self-published science fiction authors.
Adric Laser's stories appeal to all generations of people, specifically to members of a more youthful generation who seem to be able to relate to them even more due to the increasingly dystopian nature of our world as made apparent by an endless stream of unprecedented current events.
The Dystopity collection of stories itself is sure to gain a cult-like fanbase as his work continues to gain exposure and notoriety amongst lovers of science fiction everywhere.
For more information, you can visit him on the web at www.adriclaser.com or purchase one of the Dystopity collection stories now at Amazon.com.
Media Contact
Company Name: Adric Laser LLC
Contact Person: Adric Laser
Email: Send Email
Phone: (1) 206 489 4460
Country: United States
Website: www.adriclaser.com