Part II of III – Chris Sowa is interviewed by Alistair Schneider about overcoming the hurdles that keep us from an EcoCity Revolution.
During the recent EcoCity Revolution event here, Alistair Schneider, the CEO of Innouvo, interviewed Chris Sowa, a Global Vice President at Schneider Electric focused on innovation, new ventures, and strategy in the Energy Management Software business. The focus on this discussion is how we can drive a true EcoCity Revolution through improved sustainability and green innovation enabled by digitization. This is Part II of III of a EcoCity Revolution perspective.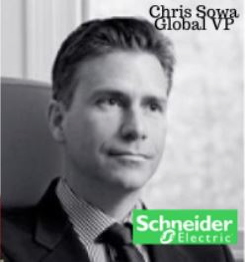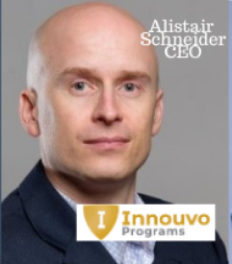 Schneider:
What are the hurdles to a true EcoCity revolution and how can we get past them to achieve our desired end state?
Sowa:
We can't do things the same way. When it comes to change, people are as always where the biggest opportunities and the obstacles are found. This efficient building lifecycle process that I outlined is still a vision in most places. We are enabling it one piece at a time, not only by ourselves, but with key partners. At Schneider, we want to be a part of the community of change helping to digitize buildings and increase efficiency, that is my focus. People throughout the construction life cycle are going to be using digital solutions much more than we do today. And I don't mean just PDF files being passed by email. We want to move past PDF, to true dynamic digital collaboration across the construction lifecycle.
The good news is that the tech is here, people now have an opportunity to execute new solutions.
I have worked in technology for over 20 years first at IBM, at Oracle, as an artificial intelligence leader at Accenture, and now at Schneider Electric. I see the potential for artificial intelligence capabilities for things like generative design to rapidly design energy efficient building and to bring together disparate data in existing buildings to improve operations. The technology is here for the using. What we need to do is to get people to think and act differently.
All of us need to start evangelizing the need to leverage digitization as a key part of this Ecocity Revolution, and we need to transition to renewable energy with vigor. Similar to the European Union's Directive, which is looking to monitor carbon footprint of every single building and managing the carbon output on an ongoing basis, we can do this here in the United States. New York has some targets around this already, but we need to have beyond high level carbon targets, the objective needs to be intelligent buildings that help us continue to incrementally improve energy efficiency and reduce carbon through intelligent sensors and prescriptive operations.
The time to debate and talk about it is over. We need to act and to be bold. We need a climate transition that thinks about not only the cost of buildings and the efficiency of buildings, but how can we better utilize our spaces that are already built, because using existing buildings is often going to be less carbon intensive than just continuing to tear down and build new ones. We need innovators to revamp building to reimagine these spaces for better people experience and energy efficiency.
Chris Sowa's full presentation at EcoCity Revolution and this interview at the end can be found here:
And all EcoCity Revolution presentations are found here
About the interviewee, Chris Sowa here:
Chris Sowa has over 20 years of experience in driving innovation, strategy execution, and new ventures leveraging advanced technologies. He has a global track record of success in Europe, Asia, Australia, and the United States. As a global Vice President, Energy Management Software at Schneider Electric, Chris is developing a new billion-dollar cloud-based software business through strategic partnerships and acquisitions to support the design, building, and operations of next generation sustainable digital buildings. He is also leading strategy for this new business.
About the interviewer, Alistair Schneider here:

Alistair Schneider is the CEO of Innouvo, a precision startup studio specializing in venture capital, product, commercialization, and network development in the spaces of Human Health and Future of Cities and Economies. Alistair is also the president and co-founder of AI-Lean, an enterprise software. He provides executive leadership in marketing, venture capital, and global innovation ecosystem development for cities. His company, Innouvo, sponsors EcoCity Revolution, an annual conference dedicated to spurring changes needed and capturing opportunities arising from improving the sustainability of our cities.
Media Contact
Company Name: Schneider Electric
Contact Person: Chris Sowa
Email: Send Email
Phone: (978) 794-0800
City: Andover
State: Massachusetts
Country: United States
Website: https://www.se.com/us/en/