Chris Patire Brings Motivation and Passion Into The Fashion Industry With His New Brand 'CrisP'
Meet the fired up Chris Patire. He was raised in Lodi, New Jersey by his single mother Joann Patire. Chris grew up in low-income housing with his mother as an only child.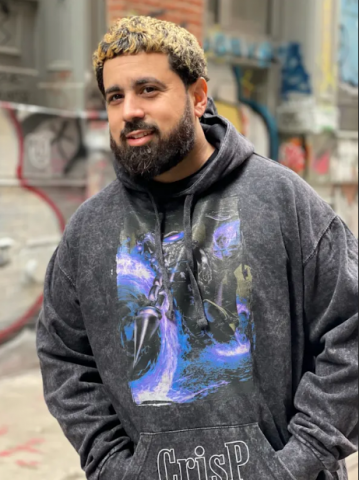 As a child if Chris was not in school he was on the basketball court every hour playing and developing a love for the game. He did not care if he was practicing alone or playing with 20 other kids. The dedication, commitment and drive Chris put into his love for the game of basketball was extremely rare.
As Chris started High School he took his dedication to a whole new level. He would travel on the bus and go to New York City almost every weekend to play in popular basketball courts to practice with some of the best players in the city. The city showed Chris something he had never seen before, high intense hustle and risk. Chris explains that he fell in love with the energy of New York City and all that it had to offer. He would witness everyone working so hard to get to their goals and so many people that came from the bottom fight their way to the top in this busy city. From his experience exploring the city as a teenager working hard and taking risks was on the top of the list of all the things that he learned.
Chris started to take his own risk and moved to Boston, Massachusetts. This was the next closest major city to his home state New Jersey and he wanted to venture off to finish High School and pursue basketball. He ended up playing for Roxbury Community College.
After college, Chris moved back to New Jersey and life attempted to test him in multiple ways. Chris had to fight back at life due to adversity, the loss of family members, and relationships. In these moments Chris stayed persistent in his dreams and goals. He states that in this time frame he realized he was never working so hard at basketball simply because of basketball, he was working hard so he could create the life he always wanted for himself and his mother. He knew basketball was not the only option.
Chris partnered with his good friend DJ Bacan Bacan and became his full time manager. DJ Bacan Bacan was working for a major radio station in New York City, La Mega 97.9FM. Bacan and Chris ended up working at every single major club in the Tri-State area. Some nights the two of them would work 5 clubs per night!
Once Chris had his son Christopher Patire the 2nd, he states that his level of motivation to have the life of his dreams was on fire. He knew he had to leave the entertainment industry so he could be there for his son as much as possible. He explains, it was this moment that he became fired up and very determined to expand his visions. He would go on various social media platforms creating two weekly videos, "Motivational Mondays" and "Fired Up Friday's." Every single video was Chris pouring his heart out on why someone should not let adversity bring them down and why they need to stay motivated. He knew how hard life can hit and how much it can bring someone down and he wanted to spread his beliefs out and into the world.
During late 2018, while working a full time job and creating weekly motivational videos Chris collabed with a friend on a clothing brand called "Misery Loves Company".
Midway through 2020, Chris was blown away at the process of creating merchandise and he was determined to start his own brand. Chris launched 'CrisP' July 24th 2020. He wanted to create his own brand so he could make sure his beliefs, courage and determination live on forever. Chris explains, motivational videos are great, but what's better than a piece of art that tells a motivating story for people all over the world to see and wear. Chris promises to continue on producing quality items that inspire all walks of life. The brand CrisP stands for Courage, Relentless, Integrity, Self Love & Persistence.
The CrisP brand plans to continue expanding internationally to spread their number one message, "Take Risks, Believe In Yourself, and Always Remember, The WORLD IS YOURS."
Chris thanks his mother, son, family, friends for the blessings and support they have given him, along with the many NFL, NBA, sport teams and players who have shown massive love through his journey.
To learn more about Chris Patire check out the full interview he recently did with Joe Fucarino on Apple's 2020 Top 100 Podcast, Therapy Without a Degree. He can also be found on all social media platforms with the tag @BigDealCrispy and the brand @Crispy_NYC
More info: https://www.crispy-nyc.com/
Media Contact
Contact Person: Joseph Fucarino
Email: Send Email
Country: United States
Website: https://www.crispy-nyc.com/