Affordable Space Saving Options for Dorm or Home Office
Aosom comes up with a few indispensable home office products to turn any small nook into a space for big ideas.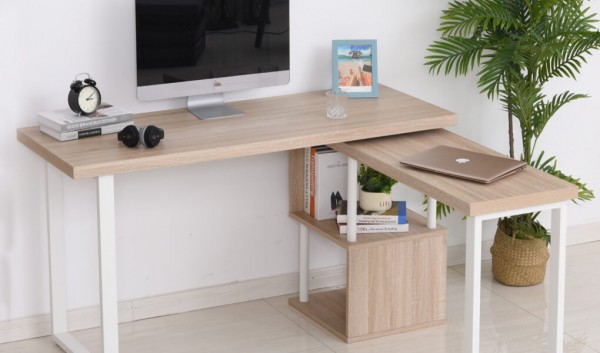 People don't need a lot of space, or a lot of cash, to set up a very functional and good looking study/work space for new dorm or office. Aosom has come up with a few indispensable home office products to turn any small nook into a space for big ideas. Keep reading and people will be on the way to getting "small" space growing. Make productivity soar and wallet smile.
The "Transformer" At the heart of every work space is a sturdy and functional desk. Out of the Aosom's wide variety of desks, big and small, Aosom picked a small, but high preforming desk, Aosom nick named "the transformer" (just for this blog) because of its versatility when it comes to shape and size. The side section of this desk can conveniently swing to form an L-shape on either side, be nested underneath to save space, or swing along the wall to become "double wide". A desk great for corners or wall sections and a students best friend! people check out the price here – Aosom thinks people will be pleasantly surprised.
Introducing: "The Support Specialist"Behind every good desk is, well, a good chair. People don't have to break the bank when it comes to finding a simple, yet comfortable, office chair. Select a seat that will be workhorse on stand-by for whenever people need it. This simple, stylish, and comfortable faux leather, tufted chair gets the job done, right. And again, this chair is an extremely great value which a hard price to beat.
To Thine Own Shelf Be TrueWhen Shakespeare said "To Thine Own Shelf Be True", Aosom thinks he was talking about this Aosom 6-shelf unit. A modern design fits in with lots of décor styles. Another amazing value and very affordable. Fill it with textbooks and watch the value increase 10 fold.
Create A Separation of SpaceA house divided is a good thing, in certain configurationsWhen it comes to tackling people's work, study, and creativity sessions, its a good strategy to divide and conquer, taking on one task at a time. If people are working in an open room, or a shared space, use a privacy screen to help designate the space as a zone of productivity. Use it to block out unwanted distractions.
Media Contact
Company Name: Aosom
Email: Send Email
Phone: 877-644-9366
Country: China
Website: https://www.aosom.com/