Essen Hot Product – EH1100 KNIGHT Welding Helmet
EH1100 KNIGHT Welding Helmet Adopted high-quality multi-layer liquid crystal optical lenses, the automatic variable welding lens (ADF) not only provides you with a clear field of vision, but also protects your eyes safely from infrared / ultraviolet rays.
• Internal adjustment
• Optical class : 1/1/1/1
• Large viewing area
• With standards of CE,ANSI,CSA,AS/NZS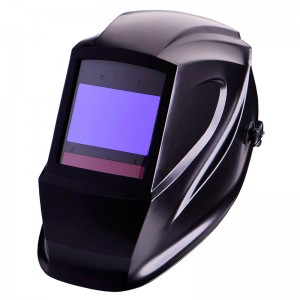 Specializing in the production of welding helmets to provide customers with the best experience.
1. Configuration ADF Model: EF10067I.
2. Viewing area: 100×67mm,1/1/1/1,True Color, Ultra-HD Quality.
3. UV/IR protection: DIN16
4. Light shade: DIN 3.5.
5. Dark shade:DIN5-9,9-13,Internal adjustment.
6. Power supply: Solar cell and CR2450 lithium batteries(Replaceable)
7. Switching Time (light to dark): 1/30,000S
8. Delay Time (dark to light): 0.1-1s Stepless adjustment.
9. Arc sensor: 4
10. Sensitivity: Low to high, Stepless adjustment.
11. Power on/off: automatic.
12. ADF Frame Size: 110X90X9 mm.
13. Electro-optical technology of Germany.
14. Low battery and ADF self-check Function
15. Mode: Weld/Grind, Internal adjustment
16. Low Amps TIG Rated: AC/DC TIG: ≥2 amps
17. Operating Temp: -10℃–+55℃
18. Storage Temp: -20°C ~+ 70°C
Media Contact
Company Name: Wenzhou Essen Security Technology Co., Ltd.
Contact Person: Media Relations
Email: Send Email
Phone: +86-0577-62890378-806
Address:Industrial Zone of Yueqing
City: Zhejiang
Country: China
Website: https://www.enseet.com/