M. Nadia Vincent Announces the "360° Business Digital Transformation Strategy" Course to Help Business Executives Reinvent and Optimize Their Business Vision and Strategy in the New Digital Economy
The live course promises to help business executives dominate their market, overcome the COVID-19 crisis, and take advantage of the disruptive opportunities of this digital age
The global economy has transitioned from a mixture of industrial and digital to a fully digital economy, accelerated by the COVID 19 crisis. As a result, digitally transformed businesses are thriving and disrupting businesses thar are not digitally transformed, precipitating them to digital death. To succeed in the digital economy, business executives should adopt a 360° digital transformation approach, allowing them to be innovative, agile, smart, efficient, and highly profitable.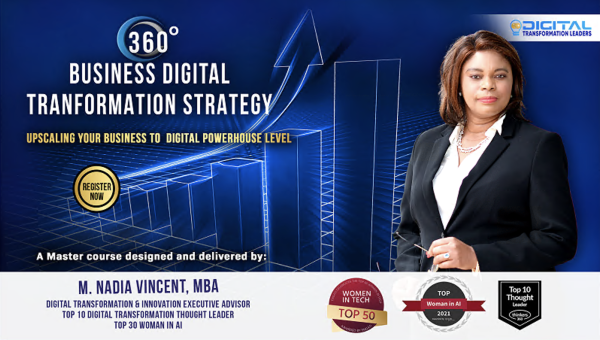 On this note, M. Nadia Vincent, an MIT Certified Digital Transformation and Innovation Executive Advisor, and multi-award-winning digital transformation thought Leader, is delighted to announce her upcoming business course titled "360° Business Digital Transformation Strategy." The Digital Transformation and Innovation Executive Advisor has designed the course to help business leaders who need to reinvent or optimize their business model, adopt the new business intelligence, and make their business more cost-effective as they prepare to grow and sustain their business in the new digital economy.
"I help business executives transform their business vision," explained M. Nadia Vincent. "I assist them in creating a winning digital innovation strategy to implement and profit from the abundant opportunities for business success in the new digital economy. Why wait for an imminent digital death when digital success is so accessible today?" she added.
Video Link: https://www.youtube.com/embed/NxeyCU3ifWU
The "360° Business Digital Transformation Strategy" is a practical course dedicated to helping business leaders and strategists create customized strategies for transforming their business to succeed in the 2nd machine age, post-COVID-19. Entrepreneurs, business strategists, digital transformation leaders, innovation strategists, business analysts, and C-level executives will find the course strategic and practical in helping them:
Keep their businesses ahead of their competition.
Overcome the economic crisis and go beyond partial business transformation to move their businesses past the digital death line and sustain it into the future
Take advantage of the digital age opportunities in a more significant way.
Entrepreneurs, business executives and business strategists who enroll for the "360° Business Digital Transformation Strategy" will undergo three days of a practical program covering business vision and strategy, technology strategy, and organizational strategy for a thorough business transformation, regardless of the sector. At the end of the course, participants should have their up-to-date 360° digital strategy and roadmap to implement to drive their business success.
"Some leaders follow digital transformation courses and wonder where to start because they receive a lot of knowledge but cannot apply it to their situation. Others have a partial digital transformation for their business, leaving them at risk if faced with a strong competitor that implements a 360° transformation capable of disrupting the market. So I went the extra mile and created the framework for them to customize, the roadmap to implement and transform their business," conclude M. Nadia Vincent.
The course is slated to begin in December, and companies can request a private delivery for their team. Business executives and leaders of large, midsize, and small businesses who wish to grow in this digital age will find the 360° Business Digital Transformation Strategy course a thorough resource. In addition, persons who enroll for the course before midnight on October 31 EST will enjoy a special early bird bonus, a complimentary 2-hour executive advisory consultation with M. Nadia Vincent.
During the 2-hour consultation, Nadia will review the 360° digital strategy draft that participants are expected to craft while taking the course, advise them on it, and help provide solutions for a single challenge their business may face. The consultation session normally sells for $3000. However, enrolling for the "360° Business Digital Transformation Strategy" before midnight on Sunday, October 31, offers the private executive advisory for free.
To enroll in the digital transformation course by M. Nadia Vincent, please visit www.digitaltransformationleaders.com/360-business-digital-transformation-strategy or send an email to [email protected].
About M. Nadia Vincent
Marie Nadia Vincent, MBA, is an MIT certified Executive Advisor specializing in digital transformation leadership, artificial intelligence adoption, and strategic business innovation. She is ranked in the Top 10 Global Thought Leaders in Digital Transformation, Innovation, Business Continuity and, Leadership by Thinkers 360. She is also named Top30 Woman in Artificial Intelligence (AI) in 2021 and top 50 Woman in Technology.
A Senior Business and IT Management Consultant, Board Member, Author, and Speaker, Mrs. Vincent has over two decades of international experience leading and implementing digital transformation for Fortune and large organizations; and coaching smaller business executives internationally and principally in Europe and North America. In addition, she has taught and implemented many businesses and IT transformation initiatives in various industries internationally. She is certified by MIT as a Digital Transformation and Innovation Executive Advisor, and in Artificial Intelligence recommendations for businesses. She is also an awarded PMI global trainer.
For more information on M. Nadia Vincent, please visit www.digitaltransformationleaders.com/m-nadia-vincent.
Media Contact
Company Name: Digital Transformation Leaders
Contact Person: M. Nadia Vincent
Email: Send Email
Phone: +32 473 76 7070
Country: United States
Website: http://www.digitaltransformationleaders.com/