LogiMAT 2022 Includes Kivnon Automated Guided Vehicles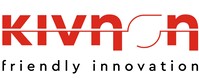 Kivnon, the leader in developing, designing, producing, and distributing automated guided vehicles (AGVs), will highlight AGV/AMR models during the LogiMAT International Trade Show for Intralogistics Solutions and Process Management. The tradeshow is from May 31–June 2, 2022 at the Stuttgart Trade Fair Centre in Germany. Kivnon will be at Hall 2 at Stand #B19.
Kivnon is an international company dedicated to mobile robotics with its head office in Barcelona (Spain). Since it was initially founded as a family-owned business in 2009, it has been offering customers innovative, highly technological solutions for the implementation of automated guided vehicle (AGVs/AMRs) systems. Comprehensive projects in mobile robotics include the design, prototyping and manufacture of AGVs/AMRs, their installation and launch, as well as technical assistance and customer service.
With exports to more than 17 countries around the world, Kivnon's success has culminated in an expansion process in Europe, North America, and South America with the opening of strategically located subsidiaries that will provide support to local customers.
LogiMAT tradeshow will highlight current trends and new developments in intralogistics. Interview talks with top experts from business and science provide insights and outlooks into exciting topics that concern the market.
LogiMAT attracts well over 60,000 industry professionals from around the world. The tradeshow has proven to be more than just a magnet for visitors: It is also a successful platform where exhibitors can present products, forge new customer relationships, and generate new orders.
About Kivnon:
Kivnon offers a wide range of autonomous vehicles (AGVs/AMRs) and accessories for the transport of goods, using magnetic navigation or mapping technologies, that adapt to any environment and industry. The company offers an integral solution to customers. Kivnon products are characterized by their robustness, safety, precision, and high quality. Each product has been designed with a user-friendly philosophy creating a pleasant, simple to install, and intuitive work experience.
The company offers a wide range of mobile robotics solutions automating different applications within the automotive, food and beverage, logistics and warehousing, manufacturing, and aeronautics industries.
Media Contact
Company Name: Kivnon
Contact Person: Rob Britt
Email: Send Email
Phone: (947) 228-1316
Address:37640 Hills Tech Drive
City: Farmington Hills
State: MI
Country: United States
Website: https://www.kivnon.com/