Jo Anne Mitchum and Nancy Duci Denofio just published a new book "Addicted to Hope"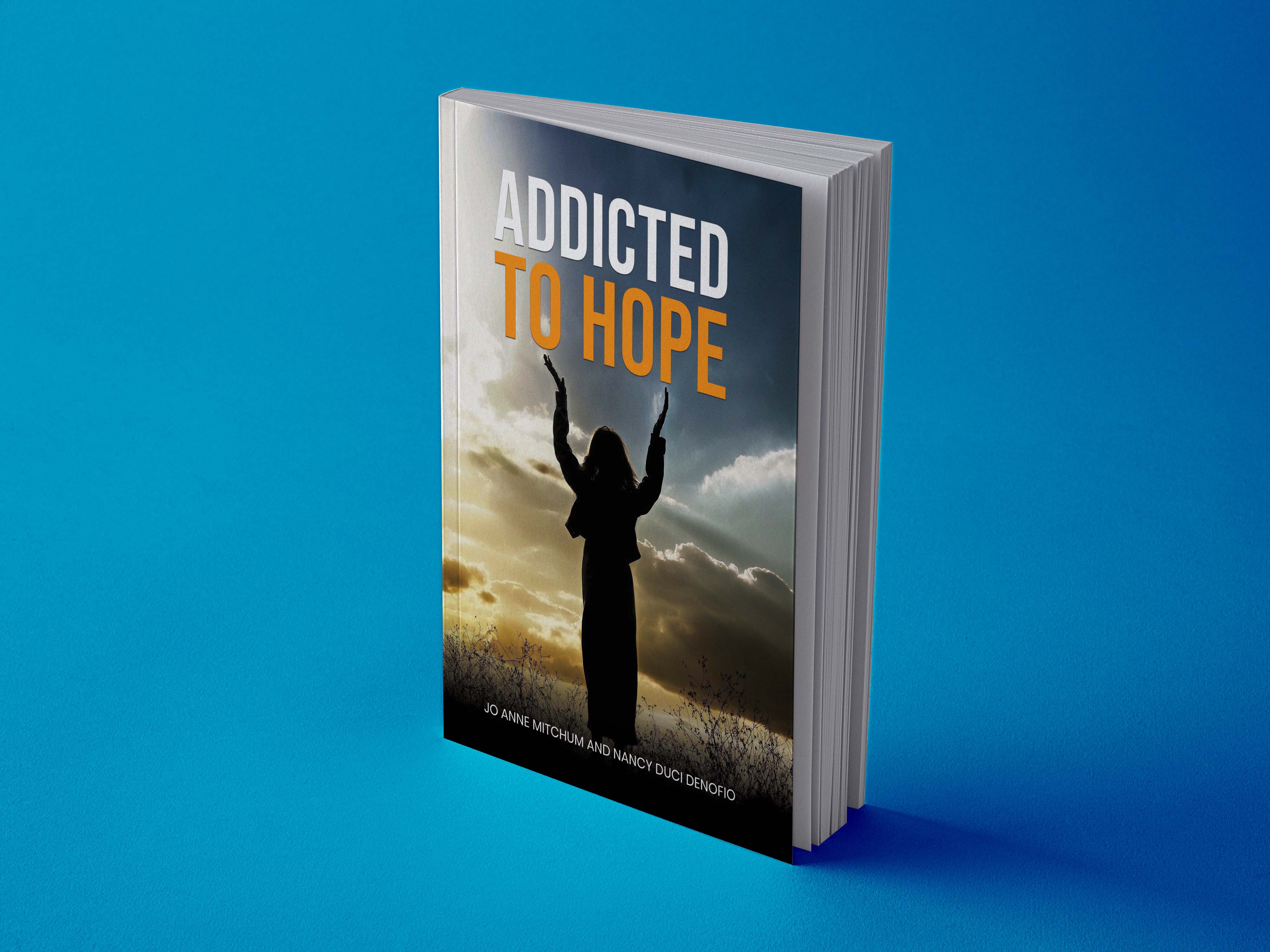 Kharis Publishing today announces the release of "Addicted to Hope" (ISBN 978-1637461198) by Jo Anne Mitchum and Nancy Duci Denofio, a true story of faith through hardship, heartbreak, and eventually joyous breakthrough.
CHICAGO, Ill. – Anyone who loves somebody suffering from addiction should pick up Mitchum and Denofio's 2022 biography, Addicted to Hope: a chronicle of Michelle Mulledy's life as the wife of an addict.
A journey into self-discovery and self-confidence, Michelle's story gives real hope to families supporting loved ones battling addiction.
Watching her husband build a million-dollar business and then sink to the depths of living homeless on the streets of Boston, Michelle finds her faith and herself.
While supporting her loved one through recovery and coping with his relapses, Michelle learns the importance of caring for oneself.
Often in unexpected and wondrous ways, Michelle leaves behind the isolation of addiction to experience the warmth of her spiritual community embracing her.
Video Link: https://www.youtube.com/embed/PDv8YZsMUQA
According to Darlene Stanton, Pastor Marty Stanton's wife, I am elated to finally see this book come to fruition. I have known both Michelle and her husband for 10 years and have always been in awe of this truly amazing story of both restoration and redemption through the power of Jesus Christ. I know this book will be an incredible source of encouragement to so many and that God is still in the miracle business even today. All the Glory to God.
"Addicted to Hope" is published by Kharis Publishing and is now available wherever books are sold, including Amazon: https://www.amazon.com/dp/1637461194/ Retailers and other agencies may order copies from Ingram Content Group or through the publisher (ISBN: 978-1637461259): https://kharispublishing.com/kp/product/addicted-to-hope/
Jo Anne Mitchum
Jo Anne Mitchum, a Marriage and Family Therapist, began working in the mental health field as a crisis counselor helping clients with drug and alcohol addiction. Jo Anne now spends her time writing and helping couples achieve a deeper sense of understanding, empathy, and connectedness within their relationships. Jo Anne lives in Upstate, New York with her husband, mother and two dogs. When she's not working, she enjoys spending time with her son, daughter-in-law, and 3 grandchildren.
Nancy Duci Denofio
A writer most of her life, Nancy Duci Denofio's work is published in numerous publications in the United States and abroad such as University of Hull in England, New Hampshire Poetry Society, Hudson Valley Writer's and more. Her previous books, What Brought You Here and Grandmother's Bleeding Hearts are collections of her poetry. Nancy has worked with writers around the world on presentation and how to read their work in public. Nancy and her husband have two daughters and five grandchildren.
About Kharis Publishing:
Kharis Publishing, an imprint of Kharis Media LLC, is a leading Christian and inspirational book publisher based in Aurora, Chicago metropolitan area, Illinois. Kharis' dual mission is to give voice to under-represented writers (including women and first-time authors) and equip orphans in developing countries with literacy tools. That is why, for each book sold, the publisher channels some of the proceeds into providing books and computers for orphanages in developing countries, so that these kids may learn to read, dream, and grow. For a limited time, Kharis Publishing is accepting unsolicited queries for nonfiction (Christian, self-help, memoirs, business, health and wellness) from qualified leaders, professionals, pastors, and ministers.
Learn more at: About Us – Kharis Publishing – Accepting Manuscript
Media Contact
Company Name: Kharis Media LLC
Contact Person: Rufus Philip
Email: Send Email
Phone: (630) 423-6309
City: Aurora, Chicago
State: IL
Country: United States
Website: https://kharispublishing.com/kp/product/addicted-to-hope/