NOVITA Diamonds at the forefront of Custom engagement rings in Australia and the global market
NOVITA DIAMONDS has gained recognition in the hearts and minds of Australian consumers as the go-to destination for affordable diamond and ring shopping. But the service that resonated the most with Australian customers is their Custom Ring Design service.
Founded in Australia by Iris Arnold, a visionary and an ambitious entrepreneur, Novita Diamonds has worked tirelessly to bring accountability and sustainability to the diamond market that hitherto was overwhelmingly dominated by mined diamonds, also known as 'Blood Diamonds'. Focusing exclusively on offering lab grown diamonds that are always sustainable and ethically sourced at previously unseen prices allowed Novita Diamonds to rapidly grow to become Australia's biggest and most loved diamond retailer, with showrooms in every major city across every state in Australia.
However, Novita Diamonds is currently most known for providing a premium boutique service that no other diamond retailer has: their custom ring design. Initially launched as a value-added service to differentiate from other diamond retailers, their in-house custom ring design department has rapidly grown to meet the unexpectedly enthusiastic response from buyers all over Australia. Novita Diamonds already has over 100 unique ring designs already in their catalogue, with beautiful new designs regularly launching, targeting every price segment, from plain and elegant to intricate and stunning settings. Some customers, nevertheless, are after a unique custom design ring that only they can call their own.
Novita Diamonds launched the Custom Ring Design service to fulfil the desire of such discerning customers as its flagship service since its inception. By investing heavily in cutting edge technology and their own exclusive workshops and then vertically integrating the whole process, from conception to actualisation, Novita Diamonds is able to bring to life any design asked by their customers, no matter how complex or outlandish they might seem for prices unheard of in the industry.
Once a customer requests a custom ring, experienced designers work with them to realise the initial outline, which is then fleshed out in advanced 3D modelling software. Through every iteration of the design process, the customer is provided with copies of the 3D CAD (Computer-Aided Design) file for them to approve and provide feedback. Once the customer authorises the final design, a prototype of the ring is created using advanced 3D printers which are used by Novita Diamonds' master jewellers as a reference to craft the final ring to ensure that the customer's vision comes through perfectly.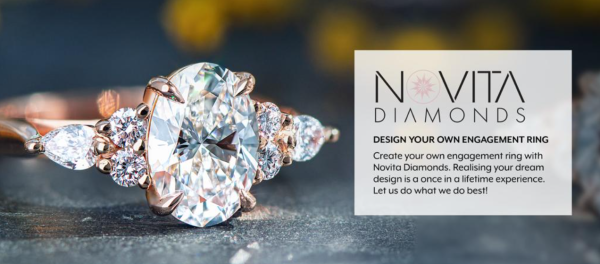 Novita Diamonds has changed the diamond scene in Australia, and the world, for the better by bringing unmatched value and choice to consumers by offering them unbeatable prices on diamonds that are always sustainable and ethically sourced. They have also pioneered in bringing custom made engagement rings to the broader market at affordable rates through a relentless commitment to innovation in technology and customer experience.
Media Contact
Company Name: Novita Diamonds
Contact Person: Maria Hill
Email: Send Email
Phone: +611800 503 082
Address:906/84 Pitt St
City: Sydney
State: NSW 2000
Country: Australia
Website: https://novitadiamonds.com/custom-engagement-rings-custom-made-rings