The New Community Leader, Britney Lu, Leads the Autism Charity Concert and Exhibition in Irvine
The 17-year-old Webb Schools of California senior played her part in raising funds and awareness for children with autism by exhibiting selective art pieces at the OC Autism Foundation
Approximately 2.3% of children are diagnosed with Autism spectrum disorder in the U.S alone. This wide-spreading disorder needs to be tackled with awareness, and investment in better diagnoses and treatment technologies. This is exactly what Britney Lu aimed to accomplish in the recently held autism charity event by the OC Autism Foundation in Irvine. Through this event, Britney talked about Autism in great detail and auctioned her selective art pieces,which consisted of a mix of acrylics and clay with a theme of The Colors of Life.
The 17-year-old clay artist Britney Lu is a senior at the Webb Schools of California in Claremont who enjoys making plant-based art from air-dried clay. When she was in elementary school, Britney was diagnosed with Dyspraxia (a development coordination disorder) which changed her life in various ways. However, with strong willpower and therapy for her condition, she's leading a normal life with a passion for helping people with special needs.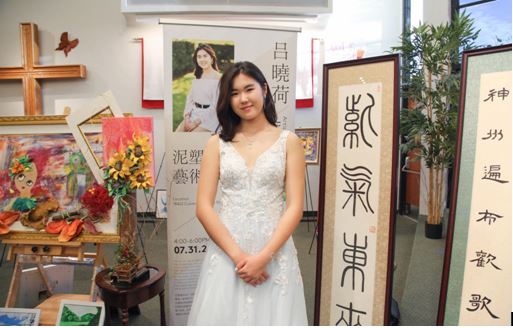 "After my therapy experience, I became more and more passionate about promoting the awareness of all kinds of special needs in both America and China, especially after realizing the massive lack of resources in the field." Said Britney Lu
Although Britney mainly works with air-dried clay and focuses on creating flowers, wood logs, and other parts of plants, she also dabbles with watercolor and acrylics from time to time. Her love for art started from a very young age when she was first introduced to play dough in her art class. Molding the soft squishy, and colorful clay into shapes of all kinds piqued her interest and made her realize how she could make anything out of it with endless possibilities.
What made her focus on crafting floral clay art was a beautiful gesture from her father, who used to bring her flowers of different kinds. Seeing those gorgeous flowers made her realize why not make her own using clay? This led to her choosing plants as her main artistic medium.
"The funny thing was that I am actually allergic to flowers, so I could only see those beautiful plants from afar." Said Britney
Britney deeply empathizes with special needs people andactively plays her role in doing whatever she can to raise awareness and funds for organizations supporting them. One of her ways of helping them is to exhibit and auction her art at various fundraiser events. These events are organized by international organizations such as Peer 1 on 1, United Nations, and the recently held Autism Charity Event by the OC autism foundation, which Britney led herself.
"I wanted to utilize my power and that of many more to bring more people to come and learn about special needs and encourage others to donate to special need organizations to create a less stigmatizing and more inclusive community." Said Britney Lu
At 17, Britney is determined to support the special needs community in every way possible, including auctioning her selective art pieces, being vocal on social platforms, and providing financial support whenever possible.
Media Contact
Company Name: Xinli Foundation
Email: Send Email
Phone: 213-6103168
Country: United States
Website: http://xinlifoundation.org/