New children's book "Why Pursue a Dream?" by Annie Sheoran and Anahita Saidi is released, an empowering lesson for young people about bravery, possibility, and seeking joy in life's beautiful journey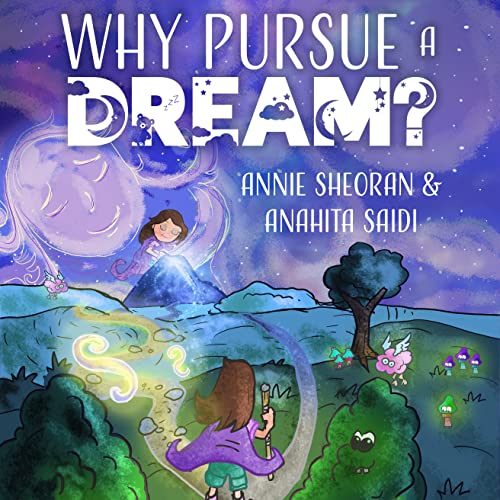 "Why Pursue a Dream?" by Annie Sheoran and Anahita Saidi has been released worldwide. This vibrant, inspiring story follows a young girl as she leaves the comfort and safety of her home to pursue her dreams. Personified by magical elements and a mountain to climb, the path toward the girl's dreams is winding and sometimes unpredictable, but she reminds herself of her strength, bravery, and smarts to carry on in the face of uncertainty. The value of dreams – and pursuing them courageously – is too often overshadowed by fears. Through the innocent eyes of a child, the reader discovers an invaluable lesson that life's struggles can otherwise distort.
The empowering message is an important lesson that young people can carry with them for years to come. The universal wisdom applies to adults too – both for the child and inner child of those who read it. The author reminds readers that pursuing dreams isn't always easy, and that there may be setbacks along the way, but with trust in ourselves, we can reach the mountaintops and find rainbows after storms.
This is a story for anyone, at any age, who's ever had a dream that seemed a little too big, too far, too difficult. It's a story to remind you to pursue that dream, to pursue it courageously, and to see what happens next – because your dreams don't go anywhere. They reside in you. In fact, they are you. If you pursue that dream, you will find that you have the power to be who you want to be and be the change you want to see.
With a beautiful foreword by Nobel Peace Laureate Mr. Kailash Satyarthi, the book is a reminder that all dreams are important – and are always worth pursuing. A portion of the proceeds go to the Kailash Satyarthi Children's Foundation. The authors have a lifelong commitment to crafting beautiful stories and creating further projects to empower and educate children with lessons of self-reliance, resilience, and passion. Every child matters and every dream matters. The authors want to use this book to call our generation to action and unite the world through compassion for our children.
Why Pursue a Dream? (ISBN: 9798985400045 / 9798985400038) can be purchased through retailers worldwide, including Barnes and Noble and Amazon. The paperback retails for $11.99 and the hardcover retails for $18.99. Wholesale orders are available through Ingram.
About Manhattan Book Group:
Manhattan Book Group ("MBG"), located on Broadway in New York City, is a registered trade name of Mindstir Media LLC. MBG is widely known as a premier hybrid book publisher. We have combined the best of traditional publishing with the best of self-publishing to provide authors with the "best of both worlds" in a sense. To learn more about MBG, visit https://www.manhattanbookgroup.com/
Media Contact
Company Name: Manhattan Book Group
Contact Person: Jen McNabney
Email: Send Email
Phone: 212-634-7677
Address:447 Broadway 2nd Floor #354
City: New York
State: New York
Country: United States
Website: https://www.manhattanbookgroup.com/