Renowned business strategist and author, Jeffrey Hayzlett, to headline the I Am Greater Summit Retreat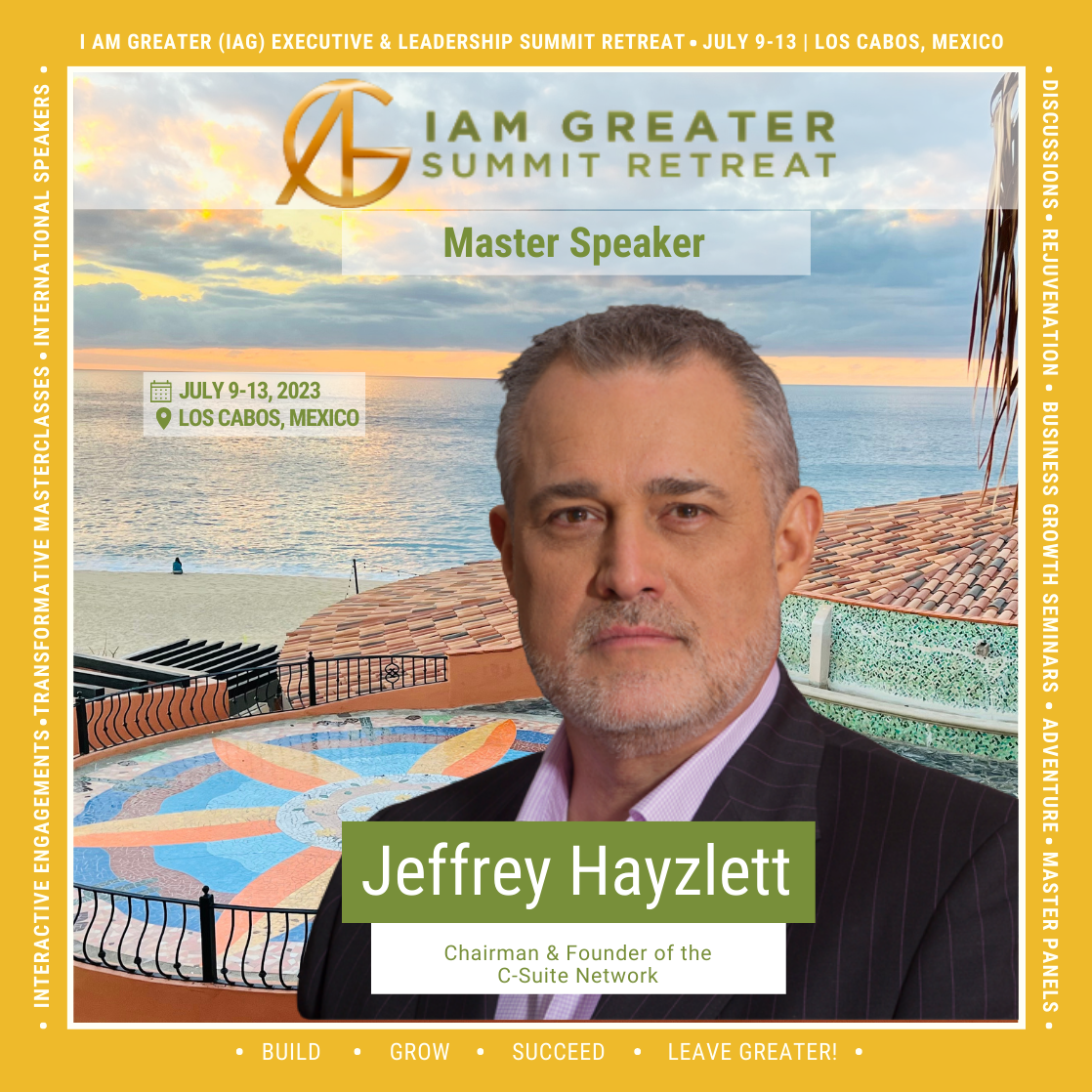 Renowned business strategist and author, Jeffrey Hayzlett, to headline the I Am Greater Summit Retreat
Sunrise, FL – The I Am Greater Summit Retreat is excited to announce that Jeffrey Hayzlett, one of the world's most influential business leaders and a best-selling author, will be a featured speaker at this year's event. The retreat will take place from July 9, 2023, to July 13, 2023, in Hacienda Del Mar Los Cabos Resort, and is expected to draw hundreds of attendees from all over the country.
Hayzlett is a former Fortune 100 CMO and the current Chairman & Founder of the C-Suite Network. He is also a primetime television host of "C-Suite with Jeffrey Hayzlett" and Executive Perspectives LIVE on C-Suite TV. He is also the podcast host of "All Business with Jeffrey Hayzlett" on C-Suite Radio, Hall of Fame speaker, Global Business Celebrity, and author of several best-selling books, including "Think Big, Act Bigger," "The Mirror Test," and "Running the Gauntlet," and his most recent, "The Hero Factor."
As a master speaker, Hayzlett will share his expertise and insights on how to navigate today's fast-paced and ever-changing business world. Attendees will learn how to transform their mindset, embrace change, and take their businesses to the next level.
"We're thrilled to have Jeffrey Hayzlett join us as a master speaker at this year's I Am Greater Summit Retreat," said Telena Paris, the event's organizer. "His wealth of knowledge and experience in the business world will provide attendees with valuable insights that they can apply to their own businesses and personal lives."
The I Am Greater Summit Retreat is designed to inspire, motivate, and empower attendees to reach their full potential. With a variety of keynote speeches, panel discussions, and workshops, the retreat covers a wide range of topics, from personal growth to entrepreneurship.
To learn more about the I Am Greater Summit Retreat and to purchase tickets, visit www.iagreater.com
Media Contact
Company Name: Write Choice Consulting Firm
Contact Person: Charity Christensen
Email: Send Email
Phone: 8778447328
Address:1560 Sawgrass Corporate Parkway 4th Floor
City: Sunrise
State: Florida
Country: United States
Website: www.iagreater.com/