Gregor Strnad talks about his Shanghai Summer School that hosts participants from around 30 different countries every year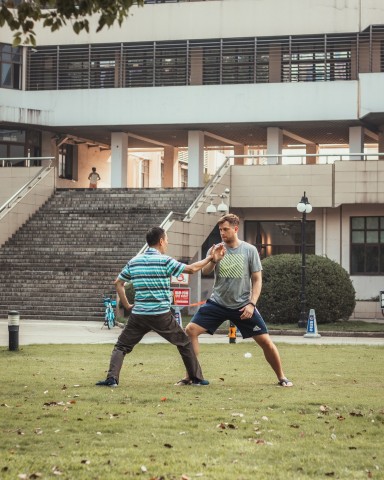 Gregor Strnad is the co-founder of Shanghai Summer School that hosts about 100 participants each year, coming from over 30 countries around the globe. He co-founded the summer school with his friend Vid after they met by chance in Shanghai and bonded over their love for Chinese culture and the city.
At the foundation of the Shanghai Summer School experience are daily Chinese lessons taught by experienced, native teachers from Donghua University. The immersive, all-round experience is accompanied by cultural activities, sightseeing trips, lectures about the business environment in one of Asia's most flourishing cities, and plenty of opportunities to come together with people from various cultures and backgrounds to build amazing memories and forge friendships for life.
Within 5 years of its establishment, Shanghai Summer School is planning to expand its repertoire of experiences to other exciting destinations like Singapore and Hong Kong.
Interviewer: Give us a brief of your background.
Gregor Strnad: I grew up watching my parents run their business, and from a young age, I knew I wanted to be like them. So throughout my degree in entrepreneurship, I was dabbling in various business and projects. I wanted to build something of my own from scratch, something meaningful.
China had always been a big part of my life, mostly because my dad. He started his first ventures in China in the early 1990s. At the beginning, I mostly listened his stories of China's development, and in the year 2000 I visited China for the first time. I have to admit I wasn't impressed at all haha.
It wasn't until I think 2012 when I joined my parents on a trip to China when my perspective of China started to shift. In that past decade, China completely changed. My fascination for the country started to grow. I realised then that there was much more to this country than meets the eye. I no longer saw it as the country where cheap bootlegged goods are made.
Interviewer: How did you and Vid decide to start Shanghai Summer School?
Gregor Strnad: In 2014 I did my semester abroad in Shanghai. It wasn't exactly my first choice, but I had a very persuasive friend. That semester in Shanghai, my interest in the country grew into a full-on obsession. I had an amazing time! I found so much to love about that city and wanted to share my experience with anyone and everyone!
One fine evening, over a chat with a very good friend of mine (who happens to be a very successful businessperson), his confidence and 'nothing is impossible as long as you work hard' attitude rubbed off me. Soon after that, I called Vid and suggested to him that we start our own summer school in Shanghai. He agreed to come onboard with this crazy idea of mine, and is now my fellow co-founder. Within two weeks, we had a plan for Shanghai Summer School ready.
Interviewer: What are the programs you offer?
Gregor Strnad: We offer three different programmes or, experiences, as we prefer to call them.
The "classic" experience is a 4-week program that we have been running from the beginning. It includes four weeks of Chinese language classes, cultural workshops, lectures on China, sightseeing activities, and lots more. It allows our participants enough time to assimilate, forge firm friendships, as well as discover all that the city has to offer, at a more relaxed pace.
The "intensive" experience was born after the realisation that there was a group of participants who wanted the Shanghai Summer School experience but were not able to spare four entire weeks of their summer vacation. As its name suggests, the "intensive" experience is essentially a more intensive version of our "classic" experience. It's almost identical to the "classic" experience, except it is condensed into a compact, two-week experience for those who are more time-sensitive.
The newest addition to our experiences is the "6-week summer-long experience". This experience was launched after receiving feedback from past participants who wanted to extend their stay beyond the 4-week program. This program offers everything our "Classic" experience offers, but has a focus on Chinese language learning. Participants in the Summer-long experience will receive two extra weeks of Chinese lessons.
Interviewer: What kind of experiences can the participants expect in this summer school?
Gregor Strnad: We place strong emphasis on an all-round experience. While most summer schools in China offer only Chinese language lessons, we believe that the summer school experience should be more than just that. China's rich history and traditions, as well as Shanghai's story, come hand in hand with learning the language of the land. Which is why our programs offer a variety of insights into the cultural, business, historical and modern aspects of the country.
For example, participants get to spend a calm afternoon indulging in the age-old tradition of Chinese tea ceremony, guided by a tea expert, they get to look down at the city from atop the Shanghai Tower, the world's second tallest building, and they get to hear about the business climate in China from experts at the heart of its thriving start-up boom.
In addition, our participants are in the best hands. Having spent a substantial amount of time living in Shanghai, and having run a few editions of Shanghai Summer School, we believe we have an in-depth understanding of what makes our participants tick. We understand the different nuances and quirks of the city like the back of our hands, which is why we know exactly where to take our participants to make sure they have the best possible experience!
Interviewer: Who is eligible to apply for Shanghai Summer School and how can one do it?
Gregor Strnad: Most of our past participants were between the ages of 18-30. However, our doors are also open to the young-at-heart! We are looking for people who are open-minded and looking to connect beyond borders, who have an adventurous spirit to explore a completely different culture and country in-depth, and who dare to be different – to want to spend their summer doing more than just lying on the beach.
The primary language used throughout the summer school is English, so there is no basic requirement for participants to know the Chinese language. About 50% of our participants come not knowing a single word of Mandarin. That said, we offer a total of six levels of Chinese language classes that participants are sorted into after a placement test, so there is something for everyone.
Applications for the 2020 edition of Shanghai Summer School are now open. Interested participants can visit our webpage at www.shanghaisummerschool.org to apply. Early-bird rates apply for those who register early, so don't hesitate for too long!
Interviewer: What are some of the best stories that come out of your summer school in the last five years?
Gregor Strnad: In the past years we hosted hundreds of participants in total, and made so many crazy memories that it's difficult to shortlist them. However, I think that the best stories all have to do with the new friendships and connections we've made during the summer school. I say 'we' because even as organisers, we consider our participants our friends and hang out together as much as we can during and after the summer.
Over the past years, all kinds of connections have bloomed as a result of that summer in Shanghai. From business partnerships, to romantic relationships – both between participants and between participants and Shanghai; having fallen in love with the city, many of our participants return to Shanghai to do longer-term exchange programmes, internships, or even to live and work.
We are always so happy to see proof of all these connections made over the years. We see our past-participants meeting up with each other all over the world, or just hanging out as life-long friends with shared memories of an incredible summer spent together. Seeing people from opposite ends of the world, whose paths would never have crossed if not for Shanghai Summer School, form meaningful bonds, is I think by far the most rewarding aspect of our job.
Media Contact
Company Name: Shanghai Summer School
Contact Person: Gregor Strnad
Email: Send Email
Country: China
Website: www.shanghaisummerschool.org