HVAC Contractor Explains Why Spring Maintenance Is So Important
Palatine, IL – A home's HVAC system is responsible for both heating in the winter and cooling in the summer. As a result, it's one of the most important systems in a home.
It's also very expensive to repair. Some people find that they have to spend $6,000+ on a new HVAC system when there's breaks down.
So what can help make your HVAC system run like new all throughout the year? Preventive maintenance, twice per year.
Preventative maintenance, often performed in the spring right before the weather amps up, is one of the best ways to keep an HVAC system running good as new.
Why perform it in the spring? The reason why one might want to get spring maintenance done on the HVAC system is because during the spring, the weather is starting to warm up. You never know how early the hot days are going to come, especially in Illinois. If someone is stuck without a working HVAC system on a hot summer day, they're going to be miserable!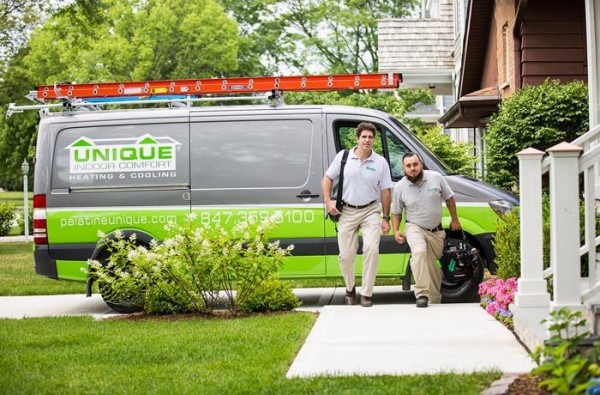 Worse yet, these repairs that result from worn down or broken parts in the HVAC system can often be expensive!
Luckily, the solution is relatively simple. HVAC systems typically break down due to overheating, and overheating often happens due to poor air flow. Poor air flow is caused by many things, such as obstructions in the fan or a dirty air filter.
It may not seem like much, but simply getting your air filters changed or your AC unit serviced can make a huge difference in your likelihood of needing repairs in the future.
A home's HVAC system is so crucial to a family's quality of life, and it's not just maintenance one has to take care of. It's important to make sure air quality is always good. Most HVAC systems take care of filtering the air, and these same air filters that can cause a system to overheat can also lower air quality.
Indoor air quality is impacted by several factors, including:
Temperature: a consistent temperature in the home throughout the day is paramount to prevent the onset of health problems caused by constantly changing temperates.

Humidity: Humidity within the home should remain between 30-50%. Humidity that is too low or too high can be harmful to one's health.

Air pressure: indoor and outdoor temperature play a big role in air infiltration, and this is due to the pressure difference between the indoor and outdoor air. Adding controlled mechanical ventilation can reduce the amount of unwanted and unfiltered outside air.

Particulates: most filters only trap large particles. They do not capture the particles that contribute to respiratory issues.

Volatile organic compounds (VOCs): not just produced by cigarette smoke or burning candles, but are off-gassed by furniture, carpeting, paint, toys, clothes, even groceries.

Carbon Dioxide (CO2): carbon dioxide is what you exhale. High levels of CO2 can make you irritable, sleepy and sometimes cause headaches. Not to be confused with carbon monoxide (CO) which is highly dangerous. Proper ventilation will keep CO2 levels low.

Nitrogen Dioxide (NO2): it mainly comes from combustion engines. Heating, electricity generation, vehicle engines, all of these produce NO2 which can be hurting your overall indoor air quality.
Getting air filters checked along with other routine maintenance will help improve the quality of life in the home.
UIC Chicagoland is offering an early spring maintenance discount: 40% off regular pricing. Take advantage of it before it ends!
They're also offering a special on Indoor air quality improvements: Up to 20% off regular pricing.
Indoor air quality has a huge impact on health, so doesn't it make sense to maintain the system that has the biggest impact on it: your heating and cooling system? Schedule an appointment with a sales engineer to learn more about how to improve indoor air quality
Media Contact:
Business Name: Unique Indoor Comfort – Palatine
Address: 653 S Vermont St, Palatine, IL 60067, United States
Phone No: 847-359-5100
Wesbite: https://www.uicchicagoland.com
Email: [email protected]
Media Contact
Company Name: Unique Indoor Comfort – Palatine
Contact Person: Media Relations
Email: Send Email
Country: United States
Website: https://www.uicchicagoland.com