Stonehaven Rotary Club and Men's Shed Join Hands to Recycle Prosthetic Legs, Help African Amputees Walk Again

March 5, 2020 – Stonehaven, a town south of Aberdeen, Scotland, is making itself famous for a simple yet important act. The Stonehaven Rotary Club, in partnership with the local Men's Shed is collecting and dismantling unwanted prosthetic legs from the landfills, and sending them thousands of miles away to help amputees walk again.
Often an amputee outgrows a prosthetic leg and has to throw it away, or the leg is discarded after the amputee has passed away. Some estimates indicate about 500 prosthetic legs a year are sent away to the landfills in Scotland.
Scotland has a long history with prosthetic legs, especially during the first world war when soldiers with missing limbs were given prosthetic legs manufactured onsite from leather and other lightweight materials. These were very basic designs, but now prosthetics have evolved, with modular components. The components are also universally fitting across manufacturers. A leading Scottish prosthetics firm is Touch Bionic, a world leader in robotic upper arm limb prosthetics, which was recently sold to the Icelandic firm Ossur.
The Stonehaven Rotary Club and Men's Shed work together, and take turns to collect prosthetic legs from limb fitting centers in Scotland. The limbs are taken to a workshop in Stonehaven where Men's Shed operates, and here alum keys and ratchets are used to dismantle the limbs into usable components. The components are then sent to Legs4Africa in Bristol, which ships them after servicing to vetted limb fitting centers in Africa. These centers have the tools and expertise to build new legs but lack the raw materials and components.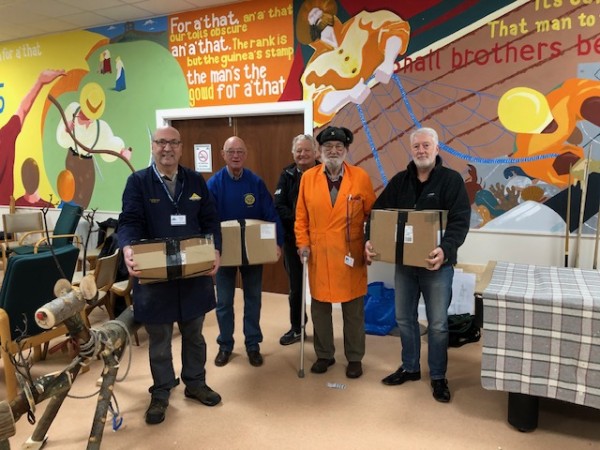 To date, Legs4Africa with its partners has recycled over 6,000 legs, all of which have gone on to build new legs or repair old ones in some of the poorest communities in Africa.
A case study of the beneficiaries is Timothy, who was studying to be a prosthetic and orthotic technologist. Timothy lost his left leg in a car accident, and acquired a prosthesis, as it makes him more confident compared to a crutch. He can also be optimally mobile and use both his hands, and thus continue his training for receiving a qualification this year.
Legs4Africa offers affordable rehabilitation for amputees across Africa. Legs4Africa's mission is to help amputees live independently, through the provision of prosthetic legs along with physical and emotional rehabilitation.
About Legs4Africa
Legs4Africa works with amputees in the UK and mobility centers in Africa to help people live more independent, fulfilled and active lives despite their limb-loss. We collect and recycle prosthetic limb components, sourced from UK hospitals and private donors, for adaption and fitting by trained technicians at partnering hospitals in Africa.
For more information, please visit: https://www.legs4africa.org/
Media Contact
Company Name: Legs4Africa
Contact Person: Tom Williams
Email: Send Email
Address:Backfields House, Upper York Street
City: Bristol, BS2 8QJ
Country: United Kingdom
Website: https://www.legs4africa.org/