Silverography Announces the Launch Of "Just One" One Of A Kind, Ethically Sourced And Environment-Friendly Jewelry

"Different is good, and being different is what makes us stand out in the world." – Natalya Neidhart
A team of visionary jewelry designers and craftsmen has taken the initiative to reinstate the significance of jewelry through the emphasis on uniqueness, ethics, and environmental consciousness. The company aims to set itself apart through its unique ideology, offering "Just one™" jewelry pieces which will never be duplicated or reproduced, the project is currently in need of funding to cover expenses realizing this dream, a crowdfunding campaign has been launched on Indiegogo with a funding goal of at least $35,000 USD to be raised within the next 30 days.
The first and foremost point of differentiation of the Just One jewelry line is that the pieces will focus on the celebration and appreciation of individuality and distinctiveness. Drawing inspiration from nature's unique designs and customary jewelry culture where each piece meant something. Each piece of jewelry designed and crafted by Silverography will be a one of a kind piece, just like its owner. The minds behind the company assures that one produced designs will not be reproduced or duplicated.
Secondly, Silverography understands it responsibility towards the earth and the people who help in making it all possible. That is why their jewelry is made through environmentally friendly practices with verified, ethical sources of materials. The team behind Silverography does not want the earth or the miners to pay the price of their success. They believe that it is important that buyers consciously choose environmentally friendly and ethical jewelry.
Silverography spokesperson said: "Our commitment to creating "Just one™" echoes through our halls, our promise is no piece will ever be duplicated or reproduced, one of one, always! Hand made in America, while always having a conscious effort to reduce our impact on the environment and using ethically sourced materials."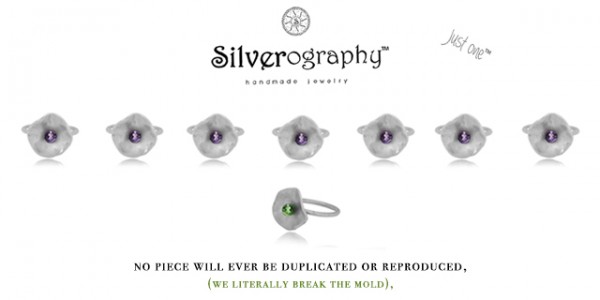 *5% of the profits will be donated to a charity supported by our customers.
The funds raised through the current crowdfunding campaign will be allocated to various aspects necessary for the completion of the product for customer use. According to the company, a majority of the funding will be assigned to the creation of an online marketplace, product branding and high-quality photography and the rest would be allocated towards tools, jewelry finishing equipment, and raw materials.
A variety of different rewards and perks are also being offered to prize the generosity of those who support the campaign by pledging money.
For more information and to contribute, please visit https://igg.me/at/silverographyjewelry/x/13143844.
About Us:
Silverography is a passionate group of designers and craftsmen based in Fort Lauderdale, Florida, United States. Their mission is to change how people view style and individuality, by reintroducing the jewelry culture where each piece meant something.
For more information, please visit: http://www.silverography.com/
Media Contact
Company Name: Silverography
Contact Person: Don Singh
Email: Send Email
Address:1530 NW 128th Drive, #104
City: Sunrise
State: FL 33323
Country: United States
Website: http://www.silverography.com/