Hily Couples Up With 'Married at First Sight' Psychologist to Craft A Compatibility Check Feature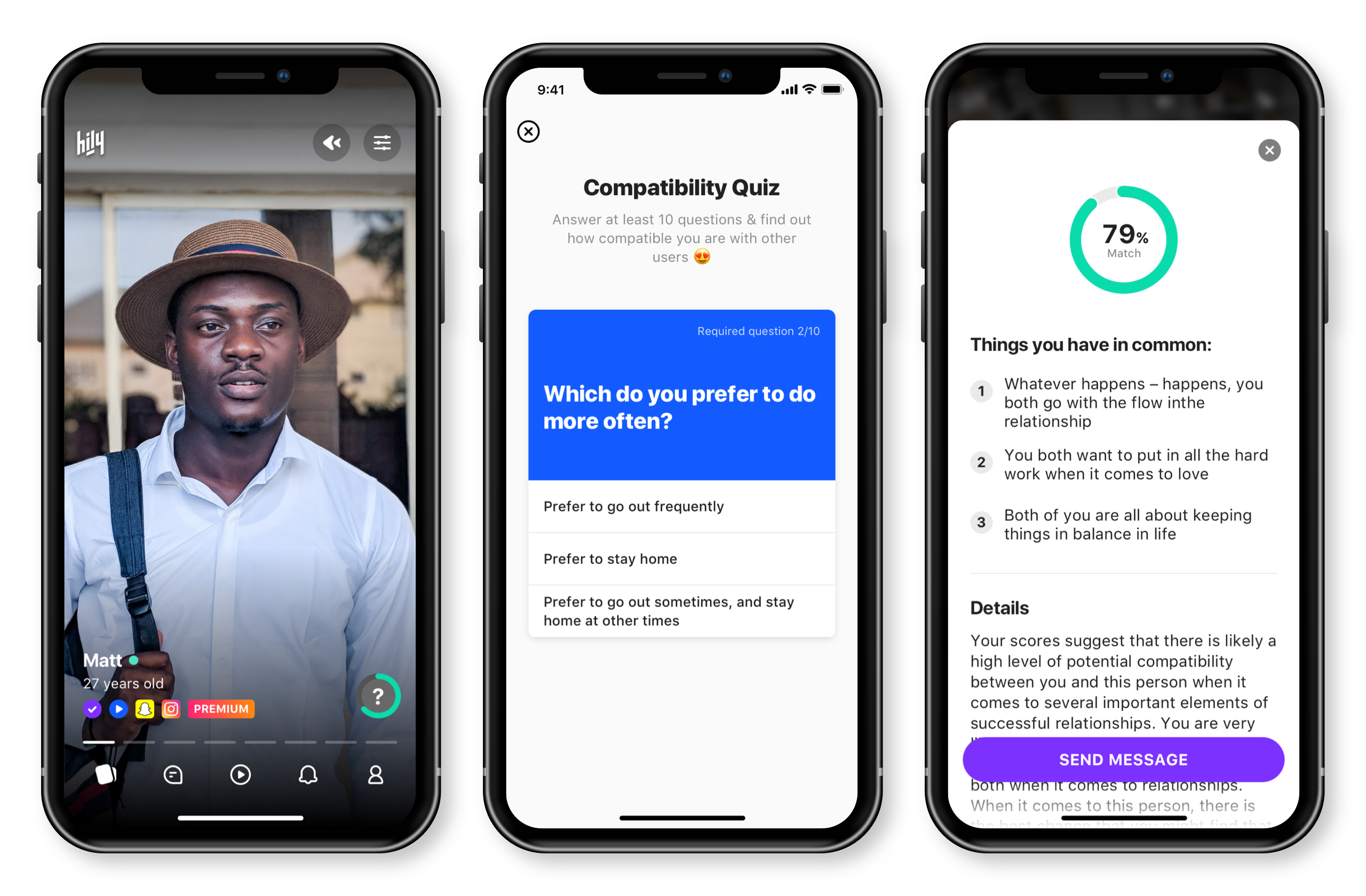 According to Hily's last poll, only 16% of men and 9% of women rely exclusively on feelings while choosing a partner. All the others believe compatibility is equally or more important.
Hily and a clinical psychologist Dr. Joseph Cilona crafted a new Compatibility Check Feature that takes into account the complementary differences two people have.
The feature is based on the personality quiz. It consists of 40 questions that refer to a user's relationship orientation, character traits, lifestyle, communication style and some other personal preferences (like sex, religion and values). Users will be able to check if anyone on the app fits them before even matching with this person.
Dr. Joseph Cilona, the author of the quiz, used to be an expert on the Lifetime Network series "Married At First Sight" where he paired up singles who had never met before. For Hily, he developed a quiz that takes into consideration not only similar but also complementary traits two people may have.
"Potential compatibility in relationships is more complex than just similarities, it's also important to look at how two people might be complementary to each other. The new Compatibility Check Feature analyses how two people might be complementary, not just how they might be similar.
For example, someone who prefers to be a nurturer and their partner to be more of a protector would be a much better fit with someone with that complementary trait rather than the similar trait of being a nurturer", says Dr. Cilona.
The results can be checked at a push of the Compatibility Check button on any user's profile. Hily shows a few points two people got in common and a detailed description of their prospective relationship.
"With this new feature, we wanted to give people more control over who they match with. We also hope that it would help our users communicate better. After getting the results, it won't take long for a user to find something to talk about with their new match", says Hily's CEO Alex Pasykov.
The new feature is now available to Hily's users all around the globe. The two compatibility сhecks a day are free, others are available with the Premium subscription. However, till March 31st Hily is offering free compatibility checks to every user.
About Hily
Hily (acronym for "Hey, I like you") is a Las Vegas-based dating app with more than 14 M users around the globe.
Hily's main focus is improving communication between singles. The app offers a variety of tools that help its users start engaging conversations.
Hily is a regular name on Sensor Tower's worldwide chart for the highest-grossing dating apps. Last year, the app launched in more than 20 new markets.
Media Contact
Company Name: Hily Corp.
Contact Person: Public Relations
Email: Send Email
Phone: +1 702-707-7542
City: Las Vegas
State: Nevada
Country: United States
Website: hily.com