Bullous Pemphigoid Market Size, Epidemiology, Leading Companies and Competitive Analysis By DelveInsight

(Albany, US) DelveInsight has launched a new report on Bullous Pemphigoid Market Insights, Epidemiology and Market Forecast-2030
DelveInsight's Bullous Pemphigoid Market Insights, Epidemiology, and Market Forecast-2030 report delivers an in-depth understanding of the Bullous Pemphigoid , historical and forecasted epidemiology as well as the Bullous Pemphigoid market trends in the United States, EU5 (Germany, Spain, Italy, France, and United Kingdom) and Japan.
The Bullous Pemphigoid market report provides current treatment practices, emerging drugs, Bullous Pemphigoid market share of the individual therapies, current and forecasted Bullous Pemphigoid market Size from 2017 to 2030 segmented by seven major markets. The Report also covers current Bullous Pemphigoid treatment practice/algorithm, market drivers, market barriers and unmet medical needs to curate best of the opportunities and assesses the underlying potential of the market.
Bullous Pemphigoid (BP) is a chronic, inflammatory, subepidermal, blistering disease. It usually presents with generalized crops of tense, pruritic cutaneous blisters, and mostly affects the old age people. In up to 20% of cases, BP may initially exhibit a non-bullous phase categorized by eczematous, excoriated, urticaria-like or nodular lesions, which may last weeks, months, or irregularly remain the sole clinical manifestation.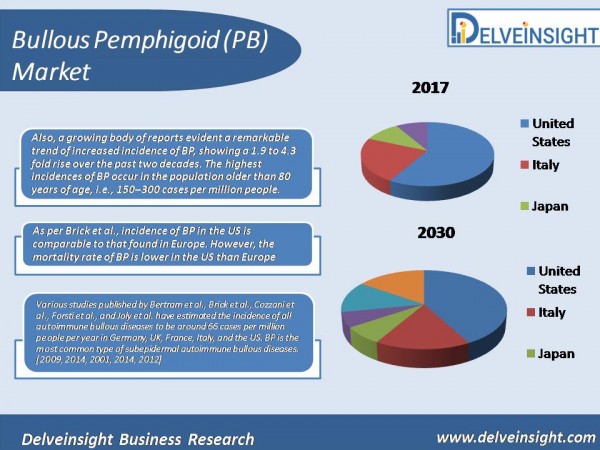 Request for:- Free sample page
Epidemiology
The Bullous Pemphigoid epidemiology division provide insights about historical and current Bullous Pemphigoid patient pool and forecasted trend for every seven major countries. It helps to recognize the causes of current and forecasted trends by exploring numerous studies and views of key opinion leaders. This part of the DelveInsight report also provides the diagnosed patient pool and their trends along with assumptions undertaken.
Reports Key Facts:-
1. Various studies published by Bertram et al., Brick et al., Cozzani et al., Forsti et al., and Joly et al. have estimated the incidence of all autoimmune bullous diseases to be around 66 cases per million people per year in Germany, UK, France, Italy, and the US. BP is the most common type of subepidermal autoimmune bullous diseases. [2009, 2014, 2001, 2014, 2012
2. As per Brick et al., incidence of BP in the US is comparable to that found in Europe. However, the mortality rate of BP is lower in the US than Europe.
3. Also, a growing body of reports evident a remarkable trend of increased incidence of BP, showing a 1.9 to 4.3 fold rise over the past two decades. The highest incidences of BP occur in the population older than 80 years of age, i.e., 150–300 cases per million people.
Key companies are working on this disease that are given below:-
1. Nihon Pharmaceuticals
2. Immune Pharmaceuticals
3. Akari Therapeutics
Name of drugs covered on this disease that are given below:-
1. Kenketsu GLOVENIN
2. Bertilimumab
3. Coversin
1. Key Insights
2. Executive Summary of Bullous Pemphigoid
3. Competitive Intelligence Analysis for Bullous Pemphigoid
4. Bullous Pemphigoid : Market Overview at a Glance
4.1. Bullous Pemphigoid Total Market Share (%) Distribution in 2017
4.2. Bullous Pemphigoid Total Market Share (%) Distribution in 2030
5. Bullous Pemphigoid : Disease Background and Overview
6. Patient Journey
7. Bullous Pemphigoid Epidemiology and Patient Population
8. Treatment Algorithm, Current Treatment, and Medical Practices
8.1. Bullous Pemphigoid Treatment and Management
8.2. Bullous Pemphigoid Treatment Algorithm
9. Unmet Needs
10. Key Endpoints of Bullous Pemphigoid Treatment
11. Marketed Products
12. Emerging Therapies
13. Bullous Pemphigoid : Seven Major Market Analysis
13.1. Key Findings
13.2. Bullous Pemphigoid Market Size in 7MM
13.3. Bullous Pemphigoid Market Size by Therapies in the 7MM
14. Attribute analysis
15. 7MM: Market Outlook
16. Access and Reimbursement Overview of Bullous Pemphigoid
17. KOL Views
18. Market Drivers
19. Market Barriers
20. Appendix
20.1. Bibliography
20.2. Report Methodology
21. DelveInsight Capabilities
22. Disclaimer
23. About DelveInsight
Why should you buy this report?
The report will help in developing business strategies by understanding trends shaping and driving the Bullous Pemphigoid market
To understand the future market competition in the Bullous Pemphigoid market and Insightful review of the key market drivers and barriers
Organize sales and marketing efforts by identifying the best opportunities for Bullous Pemphigoid in the US, Europe (Germany, Spain, Italy, France, and the United Kingdom) and Japan
Identification of strong upcoming players in the market will help in devising strategies that will help in getting ahead of competitors
Organize sales and marketing efforts by identifying the best opportunities for Bullous Pemphigoid market
To understand the future market competition in the Bullous Pemphigoid market
Related Reports:-
1. Bullous Pemphigoid – Epidemiology Forecast to 2030
2. Bullous Pemphigoid – Pipeline Insights, 2020
Media Contact
Company Name: DelveInsight Business Research LLP
Contact Person: Yash Bhardwaj
Email: Send Email
Phone: +919650213330
Address:304 S. Jones Blvd #2432
City: Albany
State: New York
Country: United States
Website: https://www.delveinsight.com/