The World's Rarest and Most Valuable Diluting Vessel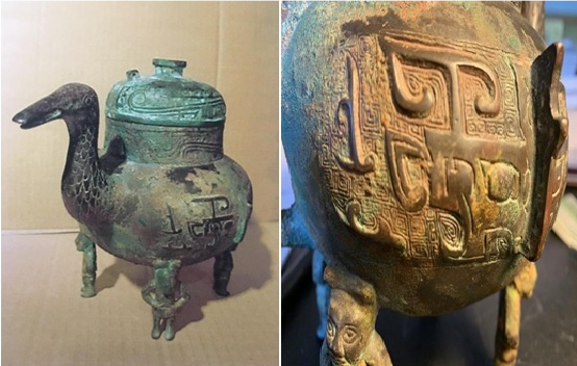 Western Zhou Dynasty (c. 1046 – 771 BC), Henan Province, China;
Cast bronze. Estimate: Over 20 Million Dollar
This duck is indeed a diluted container with a cover at the back. The zoomorphic He vessel with a globe-shaped handle stands on four anthropomorphic legs. The dominating decoration of its each side is the taotie, greedy legendary creature with human face, goat's body and tiger's teeth. The rear handle is ornamented with two animal heads while feathers are carved out of the spout in form of duck head. The cover was connected to the body by means of a ring or a chain.
Inheritor of potters' art with its elaborate form and of jade carving with its ornamental decoration, this type of artefacts is made within a segmented mould in refractory earth. A vessel like this one is cast upside down around a core in compacted earth. The craftsman uses baked earth segments, bound from the back, to build a mould. These components carry more or less incised concave decorative patterns which would be convex on the final object. The metal, melted at more than 1000 degrees, would fill the space between the core and the mould. After the metal has cooled, the mould is destroyed.
The term He originally designates a diluting vessel. They are, however, mostly used on occasion of rituals devoted to ancestors either for their blessing or for symbolizing kings' and nobles' legitimacy or made for marking a diplomatic event. In the Western Zhou dynasty, the king can only rule a vast territory, which includes the most populous regions in present-day China, through nobles scattered all across the country. In order to maintain its symbolic authority, the sovereign has nevertheless established institutions in accordance with which a noble's behaving manner and the forms of the items that he uses or possesses should strictly correspond with his rank. This zoomorphic vessel should thus have belonged to a low-rank noble.
A He in form of duck which resembles this one is kept at the Henan Museum, one of the most prestigious museums in China. According to the inscriptions inside its cover, the piece has been commissioned by an ambassador of the Marquisate of Ying sent by the Duchy of Xing for commemorating his meeting with a representative of the duke. The characters bring to the object exceptional historical values.
A vessel of the same period and with a comparable size but in a regular form, which makes it less rare than this one, was sold in 2017 for more than 3 million dollars by Poly International Auction in Beijing. Another zoomorphic container from the late Shang dynasty (c. 1200-1099 BC), originally kept at the Fujita Museum, Japan and more comparable to this one, was sold for more than 27 million dollars in 2017 by Christie's.
Media Contact
Contact Person: Cyrille Gouyette
Email: Send Email
Country: France
Website: https://bit.ly/3bCwOsF