Filled with fuzzy lead guitars and spacey atmospheric riffs, Collin Stanley's debut EP "Can't Go Home" is a treat for the ears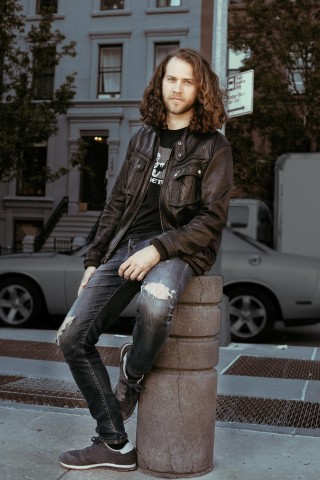 A musician, singer, songwriter, and producer, Collin Stanley is a multi-faceted artist, who is currently residing in New York. He first immersed himself into Detroit, Michigan's thriving garage rock scene around 2012.
Before relocating from Detroit to New York City, Collin Stanley has performed with many bands and collaborated with some of Detroit's top musicians. He got his first break in 2013 as a hired musician for legendary Grammy/Oscar-winning producer, Jeff Bass. This led to opening for rock'n'roll legend Mitch Ryder and the Detroit Wheels.
After successful years of playing the role of collaborator, Collin finally decided to launch his first EP "Can't Go Home" which is inspired by Collin's raw, beautiful experiences in Detroit and New York. The EP has three captivating songs including, "I Came For You", "The Underground", and "Time Future".
"The Underground" is the opening track of this EP that starts gently with mild guitar and beautiful vocals, and before you know it; you are hooked to the entire track. "Time Future" is the second track of this EP, distorted vocals and offbeat reggae style guitars and within a minute, it picks up the pace and takes the form of an entertaining fusion of rock styles that everyone loves. The last track is "I Came for You" which despite being just 2 minutes long, can take your breath away and leave you wanting for more.
"I've always wanted to do a solo project but the timing ever seems right until now. I served as a sideman musician for many years so it's nice to put out a record for myself. The project started off at the recording studio I work out of in Greenpoint, BK called the Pencil Factory Recording Studio with my friend Chris Agar. The producer, Eric Hoegemeyer, has worked with many artists ranging from Patti Smith and Kid Cudi to famous Techno artists", tells Collin, talking about how his new EP "Can't Go Home" took form.
In 2015, Collin moved to New York City from Detroit to pursue music and joined the band named DDWhite, a powerhouse female lead indie rock band. Before New York, he played in a folk-rock band called Woven Tangles, as a sideman with artist Jesse Dean and along with playing in blues, rock, country, R&B, and hip-hop groups.
Collin Stanley loves the raw energy and honesty of rock music with the earliest musical influences being blues, classic rock, and garage rock. He seeks inspiration from bands and artists such as Led Zeppelin, AC/DC, The White Stripes, Pink Floyd, Alice Cooper, Rage Against The Machine, Stevie Ray Vaughan, Royal Blood, Band of Skulls, Billy Idol, Ty Segall, Pink Floyd, to name a few. His music style is Alt-rock, Indie, and Garage Rock.
Listen to his EP "Can't Go Home" on Spotify.com
Media Contact
Contact Person: Collin Stanley
Email: Send Email
Country: United States
Website: www.collinstanley.com