Wedding Silk Sarees Collections At Kanjivaram Silks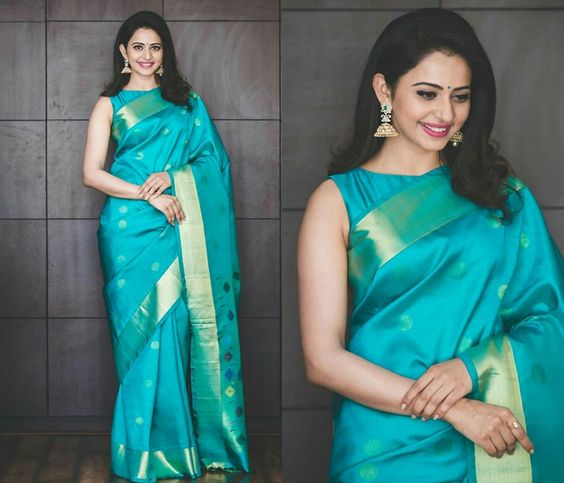 Latest wedding silk sarees collections in pastel colours, chilli red, pink, maroon and in burgundy colours, launched at their online store kanjivaramsilks.com and are available for international shipping across the globe.
Handmade south indian wedding silk sarees are popular all across the world and the demand for it is always growing. Kanjivaram silks makes these handloom indian wedding silk sarees and are selling across the globe through their online platform. According to the ceo of kanjivaram silks, Mr Vamsee says that "Bridal silk saree customization are also provided for the brides, who would wish to customize their bridal saree with their own design and colour. The recent trend for the brides is to have couple photo picture weaved in the wedding saree pallu.
The Indian wedding silk sarees have evolved with time and has gone through numerous changes in the past years. It has emerged from a traditional outfit to a fancy, glamorous and graceful ensemble that is adorned by beautiful women around the world. Wedding silk sareemakes a woman look graceful, elegant, and feminine and it flatters the female form. A saree is an attention grabber and will make you look amazing, wherever you go. Feel like a princess, or a queen on your D-Day while adorning beautiful designer wedding saree.
Several Indian designers have experimented with this versatile garment and we have seen that it can be worn in several different ways, with amazing blouses, trousers and can be accessorized to enhance the look. Sarees designed by Indian designers stand out from the traditional sarees as they are made using a wide range of fabrics, patterns, prints, embroideries, etc. Wedding silk sarees have been around for many centuries but their styles have evolved with time and will continue to change in the future.
Here are the designers who design wedding silk sarees in India and they are simply amazing:
Ritu Kumar: Indian Bridal wear and Ritu Kumar are synonymous with each other and this is the most sought after brand globally. She is the Queen of Indian haute couture and has played an important role in the revival of traditional Indian wedding sarees like chicken, zardosi, bandhani, and block printing. She is a leading designer of the Indian Fashion industry who started the trend od boutiques and customized fashion stores. Ritu Kumar designs amazing wedding sarees with a fusion of traditional Indian designs and contemporary designs and styles. Every Indian bride desires a Ritu Kumar pure silk sarees in her bridal trousseau as she styles in a unique and innovative manner. Ritu Kumar has designed gorgeous bridal silk sarees and many celebrities love to wear them.
Ritu Beri: Ritu Beri is a designer who has won many awards and is on the board of governors at NIFT. She has written a book namely 101 ways to look good. Ritu Beri is the first designer to present her collection in Paris and was featured in Promostyl's magazine. Her designer wedding silk sarees online are fabulous and amazing and are liked by several Bollywood and Hollywood actresses. If you are looking forward to buying a designer wedding silk sarees then Ritu Beri designed sarees are amazing. These bridal sarees will stay evergreen and will look great when you attend various functions during your wedding. She has brought back metallic saree, corset saree, and lehenga saree that are embellished with crystals and stones.
Satya Paul: Satya Paul takes inspiration from the beautiful world around taking a cue from trees, rain, paintings, sculptures, birds, rain, etc. This brand is globally famous for its unique prints, graceful and exuberant colors, and fluid material. He is a senior designer and is the first brand to work closely with craftsmen and weavers. Satya Paul has experimented and re-invented the traditional saree and this designer also launched pre-constructed and trouser sarees. Creations by brand Satya Paul have an overall appeal as the colors are like they are splashed on a canvas. His prints stand out and are far from ordinary. He experiments with designs and fabrics and uses rich and vibrant colors. Brides-to-be love Satya Paul sarees and want to have one in their wardrobe.
Sabyasachi wedding silk sarees: Sabyasachi wedding sarees are adored by Indian brides and celebrities and he is one of the most sought after designers in Bollywood and at the global front. He has experimented with different fabrics and has revived traditional weaving along with contemporary styles. His designs are inspired by his life and experience in West Bengal and we are astounded by his detailing of work and earthy color palette. Sabyasachi sarees are amazing and every bride wants to own a Sabyasachi saree. He has designed sarees and lehengas for numerous Bollywood celebrities like Anushka Sharma, Deepika Padukone, Vidya Balan, Aishwarya Rai, to name a few. He has been voted as one of the top ten influential Indians from Asia.
Tarun Tahiliani: Tarun Tahiliani is a high-profile and prominent designer who has made a mark in the International fashion industry. His brand is known for high quality and finesse and the designer is the master of drape. Tarun Tahiliani has clients in India and throughout the world and several Bollywood celebs love to wear his creations. His bridal wear wedding silk sarees are innovative and astounding and much sought after. He is a specialist in rejuvenating traditional styles with contemporary appeal. If you are looking for bridal lehengas or wedding sarees, then Tarun Tahiliani designs are simply gorgeous.
Abu Jani and Sandeep Khosla: Abu Jani and Sandeep Khosla specialize in providing silk sarees with extravagant embroideries that are fine, detailed and exquisite. Their outfits are far from minimalism and are made using chikankari, Zardosi, mirror work, thread embroidery, etc. Abu Sandeep is a highly popular designer and is known to design amazing sarees for national and international movie stars and other celebrities. They came up with the concept of double sarees in Indian fashion which involves draping of two sarees as one seamlessly. The style is amazing and provides a different silhouette to the wearer. Their work is globally acclaimed and has been showcased at several charitable events and fashion shows. If you have the budget then don't skip the Abu Sandeep wedding silk saree in your trousseau as they are very famous and make you look stunning and gorgeous. Wedding silk sarees by these saree designers are simply magnificent and make you look ethereal and beautiful on your wedding functions and the D-Day itself.
Media Contact
Company Name: Kanchipuram Silk Sarees Store
Contact Person: Vamsee
Email: Send Email
Phone: 9677063537
Address:251-9 Gandhi Road, (next to petrol bunk)
City: Kanchipuram
State: Tamil Nadu
Country: India
Website: https://kanjivaramsilks.com