Windy City Air Conditioning and Heating Launches Its Latest Two Internet Coupons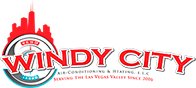 Windy City Air Conditioning and Heating releases new Internet Coupons. It gives benefits for the first time and regular customers who use its services during summer.
Windy City Air Conditioning & Heating, one of the promising AC repair companies in Las Vegas, releases its two latest internet coupons. The company calls the coupons Internet Coupon #1001 and Internet Coupon #1003. The company's CEO explained, "We design Internet Coupons to welcome first-time residential customers and summer. We hope that the coupons help customers to maintain or repair their Air Conditioning devices during Covid-19 or Coronavirus."
Internet coupons give a discount price for first-time customers. The coupon is also for customers who want to take regular AC maintenance service this summer. First-time residential customers can enjoy the service at only $65.00, whereas regular customers can use the service at only $89.00 during summer. The CEO stated, "We want to improve our services according to the conditions. One of the improvements is that we support our team with the Covid-19 safety protocol. We hope that our team works maximally and safely during the epidemic. It is also for the safety of our customers. Releasing Internet Coupon is also a way to keep our customers comfortable during Coronavirus."
An Air Conditioning device becomes one of the most important things during the epidemic. Homeowners have to keep the air clean and away from bacteria, fungus, viruses, and many more. They also have to maintain the temperature since they have to stay at home longer than usual. It will be a disaster if there is something wrong with Air Conditioning. This is the reason why Air Conditioning repair services have an important role in Las Vegas. Homeowners with AC devices can call the service anytime they want to check and repair it. Todd Bailey, a homeowner who has AC at home, stated, "We have to make sure that our AC works well at home during the epidemic. It makes us comfortable while staying at home. In case we have a problem with the AC, we know where to go. We will be pleased if there is a professional Air Conditioning service in Las Vegas that gives special offers. It saves our money a lot."
The internet helps homeowners in Las Vegas to find anything they need without going outside, including an AC repair company. They only have to type AC repair near me on the search engine box and get the result. As one of the leading AC repair companies in Las Vegas, homeowners can easily find Windy City Air Conditioning & Heating anytime they use Air Conditioning repair near me as a keyword to find reputable AC repair service.
About Windy City Air Conditioning & Heating:
Windy City Air Conditioning & Heating is one of the leading Air Conditioning companies in Las Vegas. The service covers Henderson, Green Valley, Summerlin, North Las Vegas, and Boulder City. The company is ready to repair the AC and heating system, commercial refrigerator, sales, services, repair, and installation.
For more information, please visit https://windycityair.net/.
Media Contact
Company Name: Windy City Air Conditioning & Heating
Contact Person: Media Relations
Email: Send Email
Phone: (702) 570-3006
Address:6675 Schuster Street
City: Las Vegas
State: Nevada
Country: United States
Website: https://windycityair.net