People can Breathe Deeply with Aroma Haelo Safety and Wellness Face Masks
Aroma Haelo designs the first face mask infused with essential oils for aromatherapy
MINNEAPOLIS – November 25th, 2020 – Aroma Haelo has designed the first face mask with the added luxury of aromatherapy. With its unique draped design and aromatherapy pods, Aroma Haelo is more comfortable than the traditional face mask. Aroma Haelo hopes to transform the anxiety and fear around face coverings into feelings of safety and wellness.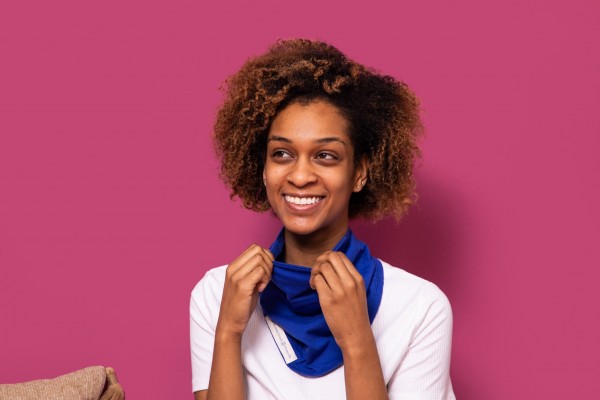 This CDC-compliant face cover is made of 2-ply natural fibres and fits snug across the cheekbones and nose. Aroma Haelo widens below the nose and mouth, making it easy to breathe. It drapes beautifully around one's neck like a scarf when not in use. Aroma Haelo also comes with small aromatherapy pods which provide genuine therapeutic benefits.
"Aroma Haelo is designed for all-day comfort," says Aroma Haelo founder Me'Lea Connelly. "Our patented aromatherapy pods offer wellness and care, alleviating symptoms like congestion and anxiety. We want to set the standards for what face coverings should offer – protection, convenience and genuine peace of mind.
"Aroma Haelo's high-quality, custom aromatherapy blends support your wellness at every stage of the day. Breathe Deep is a blend of eucalyptus and bay laurel which opens your airways and clears congestion to prepare you for your day. Breathe Joy, a blend of citrus, lifts your mood throughout the day. Breathe Calm, a combination of lavender and chamomile, helps you relax at the end of the day."
This face cover's stylish design prioritizes safety in the front with a single layer at the back for comfort. The double-ply blend includes organic cotton, merino wool, eucalyptus and bamboo viscose. These materials are washable, naturally antimicrobial and biodegradable. Aroma Haelo is designed to offer protection without the painful ear straps, restriction and stuffiness of a traditional hospital mask.
Aroma Haelo is much more than a face mask. This face cover is a stylish accessory and a powerful protective aromatherapy tool. With Aroma Haelo you can finally breathe freely, knowing you have an accessory that provides you with protection and comfort.
Learn more by clicking here: https://aromahaelo.com
About Aroma Haelo
Aroma Haelo is the first CDC-compliant face cover that provides protection with the added luxury of aromatherapy. The company believes a face mask shouldn't add stress, it should remove it. Aroma Haelo hopes to offer a superior face cover which the public can count on for safety and wellness.
Media Contact
Company Name: Aroma Haelo
Contact Person: Me'Lea Connelly
Email: Send Email
City: Minneapolis
State: MN
Country: United States
Website: https://aromahaelo.com/