R&B Singer Ayanna Williams Inspires those Who Lost Loved Ones to Covid with New Single, "To the Angels"
A tribute full of faith and love, Ayanna Williams' new Christmas single, "To The Angels" will inspire everyone who have lost a loved one to the Coronavirus and feel heartbroken with the holidays round the corner. Written and performed by Ayanna, this soulful ballad will encourage and motivate all those who will experience the upcoming holiday season without a loved one. The song is slated to release on Friday, December 11, 2020.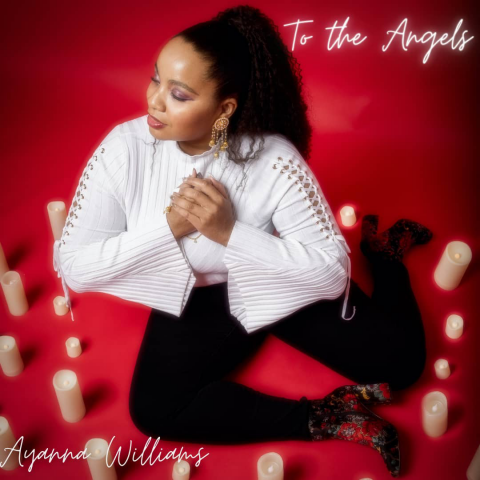 Listen to 'To the Angels': https://distrokid.com/hyperfollow/ayannawilliams/to-the-angels
With this song, Ayanna wants people to know that they are not alone in their grief. Their loss is shared by everyone, and though departed from earth, the angels are watching and protecting them from above.
"This song is dedicated to those who are no longer here on Earth with us. May we always celebrate them and never forget them. I wanted people to know that they're not alone in their grief," says Ayanna.
The inspiration to write the song came to Ayanna after a conversation with a friend, who shared with her the grief of losing her father and how difficult it will be to experience the holidays. After watching her close friends lose their loved ones to Coronavirus and other illnesses, Ayanna wanted to share this song to provide compassion and support.
Ayanna Williams was born and raised in The Bronx, and is also known as Ayanna the Singer. Her music has many fans and followers due to its raw and authentic essence. Her songs carry the influence of the sounds of the 90s and early 2000s. Her soulful R&B style retains the hold of the past while carrying the upbeat style of today. Her music reminds fans of artists like Jill Scott, May J. Blige, Snoh Aalegra, H.E.R, and Ella Mai.
"I make music to entertain, educate, and inspire. Although R&B is my first love, I enjoy covering all types of genres," says Ayanna.
Ayanna's debut release was a mixtape at the age of eighteen. In 2016, she took to music as a full-time career. Ayanna has released two EPs, 'Delicate' and 'Love Box'. She is focusing on adding to her discography and continuing to create more music.
For more information, please visit: https://www.ayannathesinger.com
Instagram: https://www.instagram.com/ayannathesinger/
Facebook: https://www.facebook.com/ayannathesinger/
YouTube: https://www.youtube.com/c/AyannaTheSinger
Media Contact
Company Name: Ayanna Williams
Contact Person: Media Relations
Email: Send Email
Phone: 718-300-9276
Country: United States
Website: ayannathesinger.com