Ene Obi Releases New Book, "Your Life is Calling"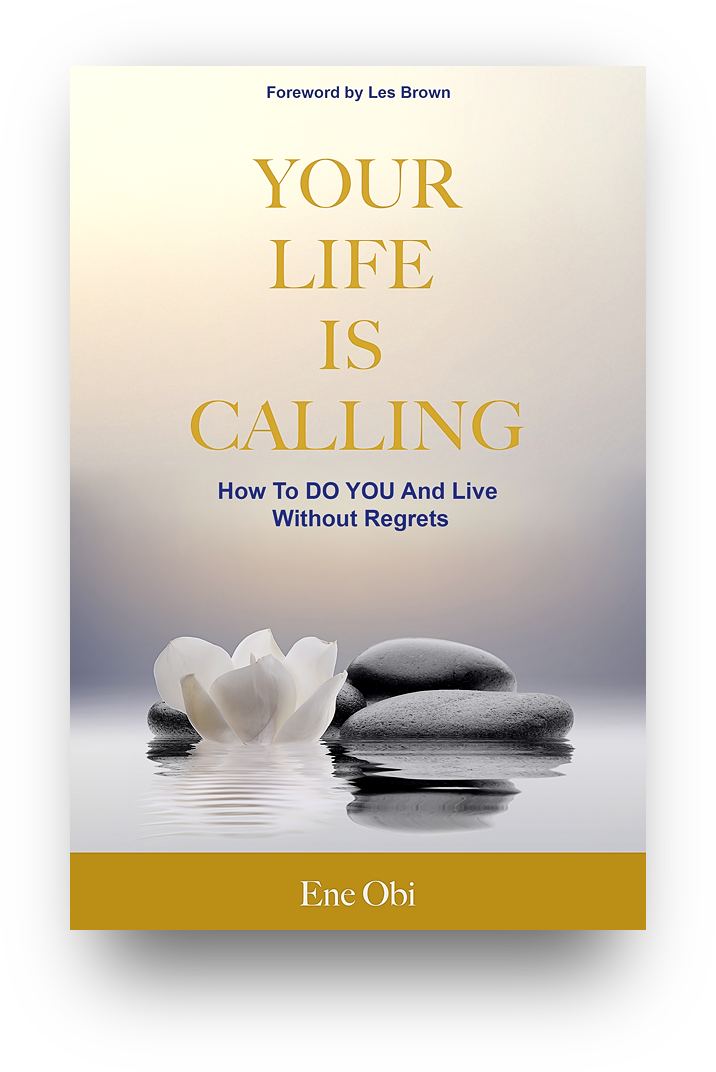 "Sometimes when we don't know who we are, when we don't have an awareness of our talents, our abilities, our potential, we disqualify ourselves from living our best life. We play small, we think small and we act small. We play it safe. Or worse, we don't play at all. We tiptoe through life like we're trying not to wake anyone up, including ourselves. It's time to get back on track, back to that place called You, because your life is calling." – Ene Obi
Combining her passion for inspiring and enriching people's lives with her experience and expertise as a top Human Resource Professional, Ene Obi has announced the upcoming release of her new book titled, "Your Life is Calling: How To Do You and Live Without Regrets" on the 6th of April 2021. With over two decades of corporate Human Resources experience, Ene has worked for some of the world's most recognisable global organisations.
Ene is on a mission to help her readers discover all of who they are, see more of their potential and wake up the genius in them. By navigating a path to their greatness, they can expand their vision of themselves, liberate their dreams and unleash possibilities in their lives.
In this book, she shares her story, as well as the lessons and principles that helped her to re-ignite the passions, dreams, and desires that she had long lost due to the distractions and disruptions of life. The book is a roadmap to help people reinvent themselves, develop a renewed sense of purpose and re-ignite their goals and dreams. Ene Obi guides readers along a journey of self-discovery, self-belief, self-love, and self-fulfillment so that they can ultimately show up powerfully and authentically in the world. Her book empowers people to take hold of the pen that is used to write the next chapter of their lives.
In Ene's words, "Sometimes when we don't know who we are, when we don't have an awareness of our talents, our abilities, our potential, we disqualify ourselves from living our best life. We play small, we think small and we act small. We play it safe. Or worse, we don't play at all. We tiptoe through life like we're trying not to wake anyone up, including ourselves. It's time to get back on track, back to that place called You, because your life is calling."
According to New York Times Best-selling Author, Lisa Nichols, "In a time where we as women must be more committed than ever to ignite our own spark, in some cases, re-ignite a spark that may have gone fizzled or forgotten, to tap into our dreams and to fulfill the things that we yearn for, Ene combines her story, her experience and her passion, and she shares with you in Your Life Is Calling, a powerful message of how to get back to that place called You. How to Know You, Be You, Love You, and most importantly, how to Do You. On your very short list of must-reads, you have to put Your Life Is Calling. You have to."
For maximum impact, Ene Obi employs the theme of a Mindspa in her book. The 'spas' in each chapter have exercises that provide opportunities for quiet reflection, 'Aha moments' and breakthrough experiences. At the end of the book is The Inner Sanctuary, with practice tools to help you connect with your deeper self and use your inner power to create the life you desire.
According to motivational legend Les Brown, "Ene Obi has provided a powerful guide on how to walk into your destiny and find your greatness. Life has no limitations except the ones you make and this book will give you the tools and strategies to overcome any perceived obstacle. A must-read for anyone who is ready to create and design the life of their dreams."
Media Contact
Company Name: Ziano Spa
Contact Person: Ene Obi
Email: Send Email
Country: United Kingdom
Website: https://www.ziano.co.uk