MINGDA Aims to Set New Standard for Auto-leveling 3D Printer with Its New Model Magician X Auto-leveling 3D Printer Released
MINGDA has recently introduced an auto-leveling 3D printer, Magician X, aiming to set a new standard for 3D Printer providers and 3D printing companies by combining complicated leveling process in one click leveling system. Find more details about Magician X Auto-leveling 3D Printer at:
https://www.3dmingdaofficial.com/products/mingda-magician-x
There are quite some 3D printer suppliers that claim their auto-leveling 3D printers can bring much convenience to practical users. But in fact, people have to waste much time in the machine's installation and leveling. Their so-called "auto-leveling" technology still needs time-consuming manual operation. This is the main reason why buyers show little interest in "auto-leveling" technology in the past. But now, MINGDA aims to change it.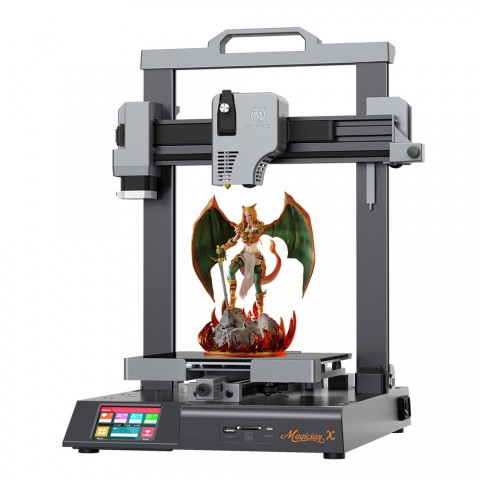 The company's sales director is excited when talking about their smart auto-leveling technology, saying, "2021 is absolutely a milestone for 3D printer industry, and more and more companies pay much attention to one-click leveling auto-leveling technology for 3D printers, as leveling is a very important step for many users.
Besides smart auto-leveling technology, MINGDA Magician X is featured with a new 32-bit motherboard and a high-performance architecture main control chip. The integration of TMC2208 silent driver makes the motherboard features silent printing and precise printing control, which means a more accurate and silent printing. MINGDA expands its presence in the 3D printer market in terms of technological innovation and user experience.
It is worth mentioning that the business is now launching its Creative Life 3D Printing Contest to attract more 3D printing lovers. Anyone can publish the video or pictures on his/her social media page (Facebook, Twitter, Instagram) and tag MINGDA. Of course, Youtube is a great choice as well.
See full details at: https://www.3dmingda.com/article/company_news/Welcome_to_2021_MINGDA_Creative_Life_3D_Printing_Contest_566.html
About MINGDA
MINGDA, a well-known 3D Printer company, has been specializing in the OEM/ODM & sales of 3D printers since 2009. The business owns two series of DIY and whole professional machines, fully meeting the needs of different users, and its products are exported to more than 180 countries.
Check for more: https://www.3dmingda.com
Media Contact
Company Name: Mingda 3D Printer
Contact Person: Mr. Sam
Email: Send Email
Phone: +86-13530306290
Country: China
Website: https://www.3dmingdaofficial.com/