Get Ready To Discovery Stunning Waterfall Incense Burners Now Available at Incense Burn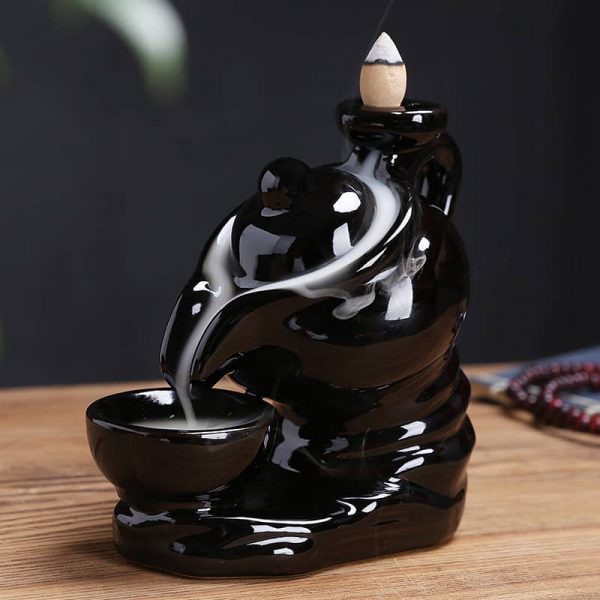 An incense burner need not be a dull boring box into which you thrust your incense sticks. Incense Burn's artistic, handcrafted waterfall incense burners prove how a backflow burner can be a stunning piece of decor.
A lot of people today use incense in their homes to smudge or to simply set the mood for a meditation session. The soothing fragrances of herbs, resins and spices do a great job at calming the mind. An incense burner turns out to be a very handy tool, especially where aromatherapy is used extensively. It prevents the messes or dispenses with the need to manually distribute the fragrances across a space. One can fix the incense stick or cone in the burner and let the smoke spread as a slow trickle.
The China-based online retailer, Incense Burn showcases an impressive line-up of waterfall incense burners that customers can claim for themselves. They pride themselves on providing quality products that are both functional and aesthetically pleasing.
Incense Burn's waterfall incense burners are made out of high quality ceramics. The material is resistant to heat and hence safe even when left burning for longer durations of time. The smoke from the incense follows the natural course of the waterfall generating a good amount of smoke to fill up the entire space. The cascading effect of the smoke is purely magical. It adds to the aesthetics of the unit making it an interesting decor item in one's living room, bedroom or workspace. The complete look of the incense burner is soothing too.
All of the waterfall incense burner models here are handmade. The attention to detail is impeccable. You will find burners created in unique designs and shapes including teapots, fruits, vegetables and flat plates. Their beauty is further enhanced by placement of figurines and statues. The burners have holders for either incense sticks or cones or both.
There are plenty of other advantages of using a waterfall incense burner from Incense Burn. One does not have to deal with fly away ash. It collects in the unit itself that can later be emptied when not in use. They are low-maintenance. All one needs to do is keep the burner holder clean.
A backflow incense burner also ensures longer lasting fragrances, helping one get the best out of the smudging ritual. The air generated by burning incense is generally warmer and lighter and hence rises upwards. In the case of a backflow waterfall incense burner, the air gets denser. As it moves through a tunnel, it cools and settles downward. Thus, the fragrances last longer.
Burning incense has several benefits. It eliminates the negative energies, keeps the mind focussed during meditation and helps one unwind. Getting the right incense burner further makes burning incense safe and hassle-free.
For those interested in buying a waterfall incense burner, head to Incense Burn. You can peruse their product catalogue of electric, crystal, dragon, waterfall and backflow incense burners. Given their commitment to quality, this is a purchase you won't regret. Contact Incense Burn at https://www.incenseburn.com/
Media Contact
Company Name: Incenseburn. Inc.
Contact Person: Media Relations
Email: Send Email
Phone: +8605125125855748
Address:518, Number 97, DongnNan Street Economic development zone
City: ChangShu
State: JiangSu
Country: China
Website: https://www.incenseburn.com/