BookLeaf Publishing Launches Their New Writing Program – #TheWriteAngle
Indian-based self-publishing company, BookLeaf Publishing, announces the launch of #TheWriteAngle, a 21-days writing program for all categories of poets
BookLeaf Publishing is not resting on their oars of promoting creativity amongst writers as the self-publishing company recently launched a writing program of 21 days, where participants write a poem/write-up each day for 21 days. Tagged #TheWriteAngle, the writing challenge gives writers an opportunity to have their works published as their individual poetry book by BookLeaf Publishing.
The global publishing market has evolved over the years, growing to become a multi-billion-dollar industry, with the emergence of several content creators, including writers and poets, to meet the diverse needs of readers. A report published by The Business Research Company put the value of the global book publishers market at $87.92 billion in 2020, with a projection that it will hit $92.68 billion in 2021. Despite the amazing figures from the industry, thousands of poets still struggle to reach their target audience. However, BookLeaf Publishing is looking to change this narrative as substantiated with the launch of #TheWriteAngle.
#TheWriteAngle will allow talented writers to enjoy a wide range of benefits, including a publishing certificate, book publishing, and book marketing. Participants in the writing challenge will also leverage innovative solutions, such as semi-DIY interior design tools, cover design library, and lightning-fast publishing. Interested participants can submit content in three languages – English, French, and Hindi, making it more open to as many writers as possible.
For more information about #TheWriteAngle and other initiatives from BookLeaf Publishing, visit – https://www.bookleafpub.com/. BookLeaf Publishing can also be found across social media @bookleafpublishing.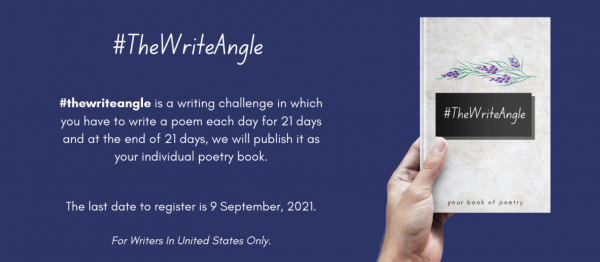 About BookLeaf Publishing
BookLeaf Publishing is a self-publishing company poised with giving writers an avenue to express themselves. Headquartered in India, the company provides services to authors from different parts of the world, offering publishing in both paperback as well as eBook, delivering the most premium services in the lowest cost packages possible to help clients get their stories out and reach their target audience worldwide without having to break the bank.
Media Contact
Company Name: BookLeaf Publishing
Contact Person: Helpdesk
Email: Send Email
City: Srinagar
State: J&K, 190005
Country: India
Website: http://www.bookleafpub.com/