Ve Shawn Owens 4th Round Stoppage Victory
Ve Shawn Owens breaks his own personal record
USA – September 10th, 2021 – Ve Shawn "Mr. Magic" Owens is an American Boxer who is based out of Minneapolis Minnesota. He has a mind-blowing personal record of 13-2 with 12 KO's.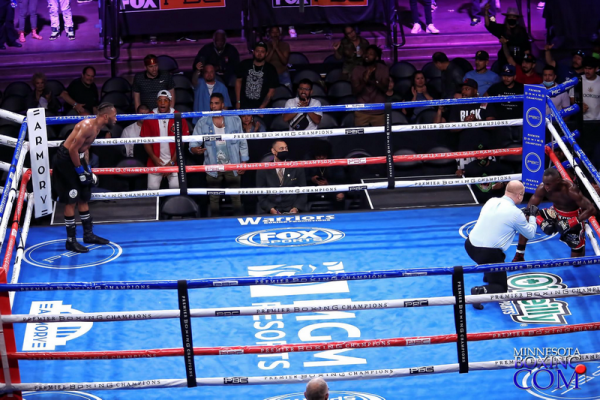 Recently, the boxer won for the thirteenth time in Minneapolis Minnesota over his competitor Micheal Ogundo at the armory on the 5th September PBC undercard. Ve Shawn Owens was the favorite in the fight against Kenyan-born fighter Micheal Ogundo. Ogundo is a resident of Massachusetts.
Ve Shawn Owens made a grand entry with a song by Anderson playing in the background. Owens even danced to the song as R&B music relaxes the boxer before a fight or during training sessions. The first round of the fight Ve Shawn kept Ogundo at bay. Owens head movements with 75-inch reach kept the opponent cornered. However, Ogundo used rough house tactics to fight Owens. Elbows, clinching, and rabbit punching threw him off guard.
During the second round, Owens developed a cut and let the referee know about his cut to the eye and elbow. However, even with the injury Owens was unstoppable. He showered jabs and left hooks on Ogundo. In this round, the two boxers traded blow for blow in the middle of the ring. Owens stunned his opponent with a right uppercut to Ogundo's body.
Owens stalked his opponent and defeated him with an uppercut to the rib cage, and made him fall to his knees. Ogundo struggled to overcome the 10th count. However, he could not fight off, and Owens was declared the winner.
After the match Ve Shawn Owens said, "My opponent was tough and durable. I was not expecting the rough play, and I got caught at the back of my head. However, I soon got back to my initial planning about how to fight Ogundo in the match".
For more information on Ve Shawn Owens follow him on http://www.instagram.com/veganbound/, or you can contact him [email protected]. For more info on Sundays Sept 5th, PBC boxing results, visit https://www.premierboxingchampions.com/.
Media Contact
Company Name: Ve Shawn Owens
Contact Person: Media Relations
Email: Send Email
Country: United States
Website: https://www.instagram.com/veganbound/?hl=en