NFT Collectors Discover "Ultra-Rare" NFTs That Predate EtherRocks And CryptoPunks – Catalogue Released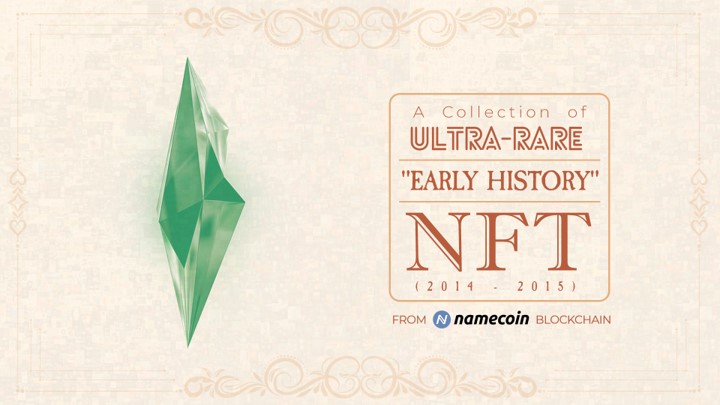 NFTArchaeology.org is delighted to announce that it has discovered "Ultra-Rare" NFTs that were minted around the same time as the Quantum NFT by Kevin McCoy.
According to the company, these newly discovered assets predate famous projects such as CryptoPunks launched in June 2017 and EtherRocks released on the 25th of December 2017. And while 10,000 CryptoPunks and 100 EtherRocks were minted for sale, these rare collections are unique one-offs organically created and not minted for the market.
There is no limit to the supply of tokenized assets that will emerge in the future, but there is an iron-clad hard cap on the scarcity of those in the past.
With release dates from 2014 to 2015 on the Namecoin blockchain (around the same time as the Quantum NFT which recently sold for a whopping $1.4 million, and was also launched on the Namecoin blockchain), NFTArchaeology.org insists that these rare collections are ancient treasures destined for greatness once they enter the open market.
Namecoin is touted as the first fork of Bitcoin and is believed to be the only project that Satoshi Nakamoto himself contributed to, apart from Bitcoin.
The company has also released a catalogue detailing the highlights of the collection which also showcases how much sentimental value they possess as digital time capsules of the NFT creation era.
Some Highlights of the Collection:
"THE MARTIAN" (May 15, 2015): Mars Rocks That Predates Ether-Rocks.
First Extra-Terrestrial NFT | First Space Exploration NFT & First MARS NFT
"LOST IN FILM" (Aug. 11, 2014): Earliest Cinema NFT
"LOVE & PAIN" (Nov. 16, 2014): First 'Love Note' NFT
A Famous Photograph of Loss & Pain With a "Love Note" Signed by the Photographer
"THE CLASSIC" (March 12, 2014): The First Classic Sport and First Ever Cricket NFT
"THE BIBLE VERSE" (July 9, 2014): Earliest Known Religious / Bible NFT Ever!
"BEYOND 9/11" (May 6, 2014): Freedom Tower, Symbolizing Human Resilience.
The First Known NFT of The World Trade Center (NYC, USA)
Other notable ones include – the first NFT associated with the crypto term 'HODL', earliest known music album cover NFT, celebrating immigrants (Chinatown 1980's), 1989 Tiananmen Square Protest, first iconic soldier NFT and more.
Some of these NFTs are already available on leading marketplaces, such as OpenSea. And the team had hinted that it is currently accepting private bids and purchases.
For more information and to download full catalogue visit: http://www.nftarchaeology.org/.
About NFTArchaeology.Org
NFTArchaeology.Org is a team of early crypto enthusiasts and investors, all united by their interests – NFTs in general and 'Historic' NFTs in particular.
The company believes the NFT industry is poised for exponential growth, and that true value will be captured only by a few projects (the blue chips). As opposed to speculating on which projects would become blue-chips, NFTArchaeology.org directs its focus on NFTs with historic value – as they have time on their side! And so educates on, invests in, unearths and trades these "Early History" NFTs.
Media Contact
Company Name: NFTArchaeology.Org
Contact Person: Vinodh Ravishanker
Email: Send Email
Country: India
Website: http://www.nftarchaeology.org/