The Six-Figure Women Coaches Magazine Announces Its Special December Edition
The Winter 2021 issue featuring 17 coaches and consultants properly vetted for authenticity & set to thrill readers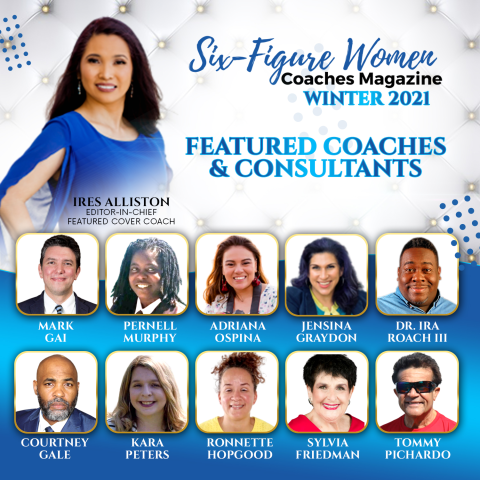 Six-Figure Women Coaches Magazine, a magazine dedicated to women's successes, is excited to announce its December edition. The December edition, also called the Winter 2021 issue, features 11 main coaches and consultants with 6 special guests. Each of the women and men coaches featured on this special winter 2021 issue has been carefully vetted for authenticity and readers of the December edition of Six-Figure Women Coaches Magazine are guaranteed to be thrilled.
The Six-Figure Women Coaches Magazine is the first-ever premium magazine dedicated to highlight the Success of Women Coaches & Entrepreneurs. With a mission to celebrate and support women entrepreneurs, business professionals, and community leaders and their achievements worldwide, Six-Figure Women Coaches Magazine is making sure with each edition no stone is left unturned.
In this special December publication, the women and men coaches featured on the Six-Figure Women Coaches Magazine edition includes Ires Alliston who is the founder of the magazine. Alliston, who is a mom, an introvert and an entrepreneur, is the featured cover coach. Also on the winter 2021 issue is Pernell Murphy, a featured coach, speaker, trainer, and entrepreneur. Tedx speaker, trainer and entrepreneur, Mark Gai is also one of featured coaches alongside Jensina Graydon who is also a speaker, trainer, and entrepreneur. Others are Tommy Pichardo, Sylvia Friedman, Dr. Ira Roach III, Courtney Gale, and Ronnette Hopgood are also entrepreneurs, speakers and coaches. Not to mention special guests, coaches and trainers, Valerie Priester, Jonathan Bengel, Miro Heyink, Tonya Hofmann, Christine Furman, and Angel Tuccy are also included. On the Six-Figure Women Coaches Magazine December edition, Kara Peters who is a journalist and content writer was also featured. This is in addition to Adriana Ospina who doubles as a photographer and entrepreneur.
Founded by Ires Alliston, SFWC Magazine is set to amplify results, impact and income. With its wide readership, each of the featured coaches on the SFWC Magazine get an opportunity to receive leverage that will propel both their online and offline presence to greater heights. The featured coaches are offered the golden opportunity of instantly gaining credibility and being regarded as a 'Recognized' expert. Featured coaches are also offered an opportunity to showcase their skills and earn a unique 'bragging right' that other coaches in their industry simply do not have.
For more information on Six-Figure Women Coaches Magazine, visit their website — sfwcmag.com
Media Contact
Company Name: The Six-Figure Women Coaches Magazine
Contact Person: Ires Alliston
Email: Send Email
Country: United States
Website: sfwcmag.com