The Legendary PAW Pre-sale Postponed to February 13th
The Legendary PAW project has decided to postpone its pre-sale to February 13th, 2022.
The main reason for delaying the pre-sale is that they have had several private investor groups reaching out to them.
This will enable them to handle the pre-sale, marketing, and distribution of the game in a way that will ensure success, as well as create an opportunity for investors to make sizable profits.
Now, PAW has announced the launch of Legendary PAW, a unique 'Play-to-Earn' Binance Smart Chain token capitalizing on NFT (non-fungible tokens) and meme coins similar to Axie Infinity.
The company aims to overcome current crypto market challenges with its financial world-changing projects and NFT games.
They have also announced that people will be able to mutate their NFTs using their NFT mutagen.
Before the launch of Marketplace and NFT collections, an AIR sale will be held, where people will have the ability to win NFT at random, directly in their wallets.
The NFT slot game is almost ready and will be announced shortly after the NFT release.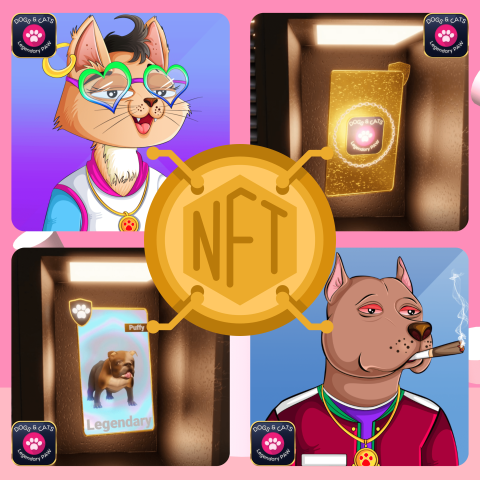 What is Legendary PAW?
Legendary PAW is a digital token for use on the blockchain that can be used for gaming, trading, and more.
Legendary PAW is a digital asset on the blockchain that will be used as currency in various online games and entertainment platforms. The company's founder is Gabriel Catalin, co-owners Paolo Stylianou, and Iakovos Iniatis.
The company aims to transform the NFT game scenario with backing from 7 milestone financial projects and get profits depending on the financial data such as marketplace, exchange, payment processor and cards, stock exchange & crypto platform, and more.
Legendary Paw Tokens are an asset of the company. They are part of a larger ecosystem called Legendary Token Platform; this ecosystem will allow anyone to create their own tokens, with different types of assets.
These new tokens will then be able to be used as cryptocurrencies without any transaction fees and with instant confirmation times. This ecosystem also allows one to trade directly from their e-wallet without having to go through exchanges or pay commission fees. People can also buy cryptocurrencies using fiat money and withdraw their earnings using debit cards or cashback services.
The NFT game platform holds some unique features
PAW offers various advantages compared to other play-to-earn games. With their aim to eliminate current crypto market problems using milestone projects, they will ensure a constant cash flow. Their unique technology can be a direct competitor to Blockchain and they also have a well-designed marketing strategy, investors, and growth model and will be listed on major exchanges.
In the future PAW coin will offer its depositors future investment options. The coin will provide financial data for all the projects involved ensuring 100% transparency. Investors will get rewards with profit percentages from the launched projects.
The platform will allow users to exchange their earned Paw Points into tokens of the projects they like and then to trade these tokens in exchanges. This way investors will be able to buy tokens before the project hits the market.
To know more about Legendary PAW and their Pre-Sale launch, visit their website and join the community on social media.
Twitter: https://twitter.com/LegendaryPaw
Discord: https://discord.gg/AGt8UxmSkD
Telegram: https://t.me/LegendaryPaw
Media Contact
Company Name: J.I.P.S. ONLINE MARKETING & DIG.SOL
Contact Person: Gabriel E.
Email: Send Email
Country: Cyprus
Website: https://legendarypaw.com/