New all-in-one carry-on sized travel photography backpack to debut on Kickstarter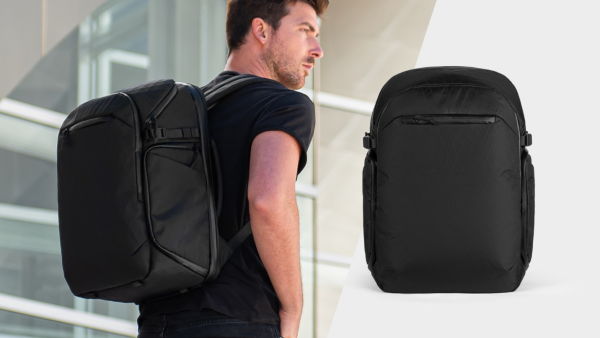 The Elevate Pack is an ultra-versatile carry hybrid, with features perfect for work, travel, photography, and everything in between. Modular accessories and dedicated tech compartments for laptop, tablet, camera gear, and more allow you to adapt to any situation.
The Elevate Pack has been designed from the ground up with feedback from professional photographers and travelers with the best of both worlds – the functionality of a travel bag and the features of a full photography carry system. The Elevate Pack combines Intuitive organization, dedicated tech compartments, and quick access to enhance your life on the move.
28 liters of carry capacity has been optimized for endless organization for all your camera, tech, and travel essentials. The Elevate Pack is designed to seamlessly transition from a daily-use or travel bag to a full photography build-out with quick top and side access to keep photo gear and carry essentials readily available.
The Elevate Pack's sleek and minimal design is paired with advanced, weatherproof fabrics and premium hardware, providing protection in even the harshest environments. Whether you're traveling with photo gear or simply on your daily commute, the Elevate Pack was designed to transition to suit your lifestyle for work, leisure, or anywhere in between.
"Our Elevate Pack is designed to look amazing and to function even better. It will enable you to stay effortlessly organized and equipped while on the move. We designed this unique carry hybrid for photographers and adventurers to streamline and elevate the way you carry. At TRMNL, we're committed to delivering high quality products, made to last, and with your support, we're ready to bring the Elevate Pack to life. We can't wait to see where it takes you next."
Yunjae Smith, Founder & Designer, TRMNL
Backers will be rewarded with handy discounts off the retail price of the Elevate Pack.
To show your support for the campaign, please visit:
https://bit.ly/elevate-pack-kickstarter
About TRMNL
TRMNL is a Los Angeles based design studio passionate about gear, travel, and thoughtful design. We create durable, functional, and high-quality travel bags and accessories that meet the demands of the modern professional, traveler, and photographer.
Kickstarter URL: https://bit.ly/elevate-pack-kickstarter
Instagram: www.instagram.com/trmnldesign
Facebook: www.facebook.com/trmnldesign
For enquiries: [email protected]
For more information about TRMNL and our products: www.trmnldesign.com
Media Contact
Company Name: TRMNL
Contact Person: Media Relations
Email: Send Email
Country: United States
Website: https://trmnldesign.com/