TurboMed Orthotics: Walk Without Worries in XTERN Ways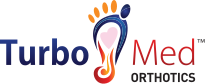 TurboMed Orthotics has released their newest model of AFO brace that serves as an addition to the company's long list of best-selling orthotics for foot drop issues. Called the "TurboMed XTERN", this new model of foot drop splint aims to give people suffering from foot drop and its complications an easier, pain-free, and worry-free way of walking, running, jumping, and other movements even with the said condition.
Unlike other types of foot drop splints, TurboMed XTERN comes with a flexible spring that makes walking and running don't just feel painless and free of foot drop issues, but also makes such movements feel normal. The said springs present in the brace will allow the user to move and work normally. Since it is attached outside the shoe of use, XTERN offers more freedom of movement in every way without even the slightest hint of exhaustion or pain caused by pressure in moving.
A rare case of muscular syndrome experienced by a significant portion of the population of the world throughout the years, foot drop is a health condition that causes postural and movement difficulties due to the person being unable to lift his or her front part of the foot and toes. This can be corrected by using foot drop braces and splints, but the XTERN by TurboMed takes it to a whole new level, enabling people to walk and move freely and normally like there's no such difficulty at all.
Turbo Med Orthotics is a leading AFO company with offices and stores in Canada and the USA. Their products are available for purchase through their physical and online stores in over 35 counties. They can be reached out through their main telephone number 1-888-778-8726 (USA and Canada), or their official websites www.turbomedorthotics.com or www.turbomedusa.com.
About TurboMed Orthotics
TurboMed Orthotics is a Canadian orthotics company that provides a wide range of braces, splints, and other orthotic products that aim to provide the best support for people suffering from foot drop, a muscular condition caused by certain diseases, which results in the difficulty of the person to lift his or her foot's front part.
Founded commercially in March 2015 through the partnership of François Côté and Stéphane Savard, the orthotics company has offered a wide range of AFO braces that have helped countless persons suffering from foot drop and made them move normally and easily again, thanks to the high-quality design and technology specially customized to fit in comfortably to any size of the user's shoe.
Côté, himself a person suffering from foot drop due to a snowmobile accident in 2001, is the lead designer of the renowned AFO braces. With his specialization in mechanical design, he created numerous prototypes that would later lead to the now-famous AFO braces and splints that TurboMed has been known for, including the TurboMed XTERN. With the partnership between Côté and Savard, TurboMed Orthotics has now been among the top orthotics company today, with their products sold in more than 35 countries worldwide.
Hours of operation:
(UTC-05:00) Eastern Time (US & Canada)
Monday-Friday 9:30 AM – 4:00 PM
E-mail:
• Main: [email protected]
• François: [email protected]
• Stéphane: [email protected]
Phone Numbers:
• USA and Canada: 1-888-778-8726
• François: 1 581-309-5472
• Stéphane: 1 418-563-8675
Media Contact
Company Name: TurboMed Orthotics
Email: Send Email
Phone: 1-888-778-8726
Address:240 Sydney (Suite 101)
City: St-Augustin-de-Desmaures
State: QC G3A 0P2
Country: Canada
Website: https://turbomedorthotics.com/