REVIVE REFRESH – A Brunch and Workshop for Dementia Caregivers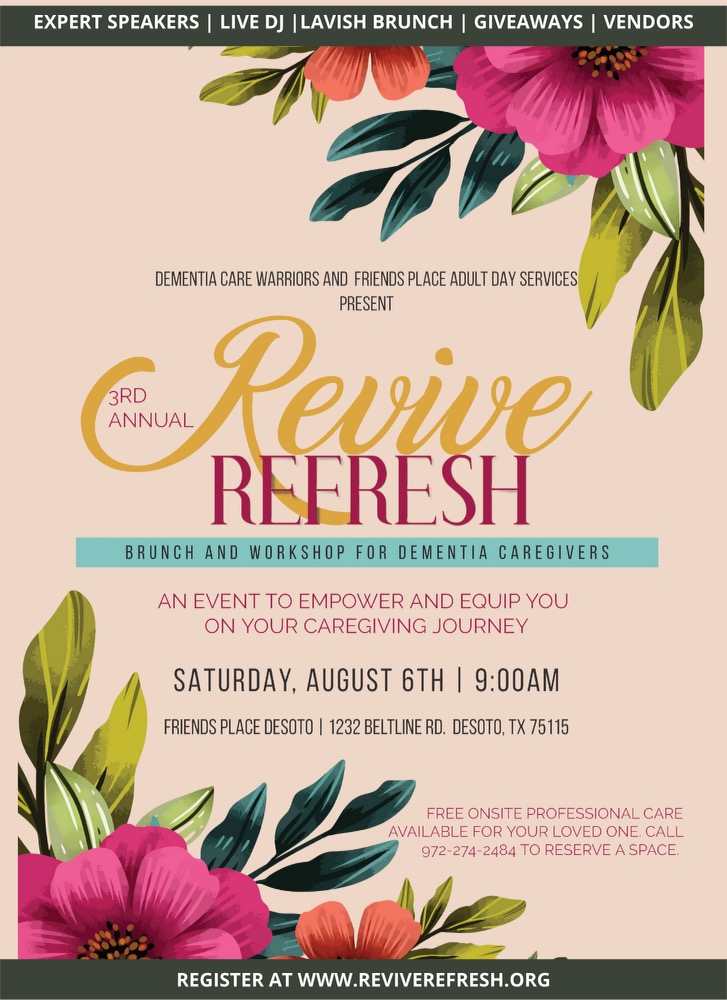 Revive Refresh Is A High-Impact Workshop And Annual Event Held To Celebrate And Honor Dementia Caregivers Of All Stages
Dementia Care Warriors, a reputed non-profit organization devoted to providing non-medical assistance and resources to family caregivers of Alzheimer's and related dementia is delighted to announce its annual event – REVIVE REFRESH, organized to celebrate and honor dementia caregivers. In its third year, the event will take place at Friends Place Adult Day Services in DeSoto, TX on August 6th from 9:00AM to 1:00PM.
Each year, Dementia Care Warriors partners with Friends Place Adult Day Services to present this highly anticipated and impactful event targeted at esteeming and showing regard for dementia family caregivers. It is an event where caregivers of all stages gather together to enjoy a full day of educational workshops, let their hair down, and also provide community support for each other.
REVIVE REFRESH is hosted annually by Dementia Care Warriors, a powerful support system for dementia caregivers, dedicated to helping caregivers of all stages live a balanced and fulfilled life amidst the challenging demands of caring for their loved ones living with Alzheimer's or related dementia.
The event will feature a catered brunch along with four astounding guest speakers who are experts in their respective fields and who will educate attendees on practical caregiving tools and techniques to employ. This year's speakers include Dallas ObGyn and founder of Charleston House Women's Health and Wellness Dr. Kamilia Smith,, health and wellness coach Chef Paul Ritter, Executive Director Area Agency on Aging Tarrant County, Shakita Johnson, Esq., LBSW, and dementia care expert Pam Johnson. The event promises to be life-changing and also a safe space for caregivers to interact, socialize, and learn from each other.
Cognizant of the challenging and difficult role of caregivers, REVIVE REFRESH, organized by caregivers for caregivers, aims to serve as a day-off for caregivers to connect and serve as a support system for each other. Attendees are guaranteed to leave the event with a new sense of self, clarity, and zeal to put their best foot forward both emotionally and physically. The event is set to uplift and remind every Alzheimer's caregiver that they are not alone in this journey.
For more information on REVIVE REFRESH or to register for the event, please visit – https://www.reviverefresh.org/
About Veronica Shanklin
Veronica Shanklin, the founder of Dementia Care Warriors is an avid volunteer and advocate for Alzheimer's awareness. Having been a full-time caregiver for almost a decade, Veronica developed a passion for advocating for Alzheimer's awareness while being the primary caregiver for her grandmother and mother, both living with Alzheimer's disease.
Veronica Shanklin painstakingly champions and creates awareness of the limited resources made available for dementia family caregivers. She has served on the Board of the Greater Dallas Chapter of the Alzheimer's Association and Your Brain Matters women's initiative leadership committee. She currently serves on the Board of Directors of Community Council of Greater Dallas and AWARE Dallas and is the chair of the Dallas Area Agency on Aging Advisory Board.
About Dementia Care Warriors
Dementia Care Warriors is a non-profit organization under the Federal 501(c)3 IRS code whose mission is to provide non-medical education, support and resources to caregivers caring for those living with Alzheimer's and related dementia. They accomplish this through respite scholarships, monthly support groups, education forums, group social outings with care recipients and more.
About Friends Place Adult Day Services
Friends Place Adult Day Services, based in DeSoto, TX, is dedicated to providing specialized daytime care and programs for individuals with Alzheimer's or other dementias; which will enable them to maintain a life with dignity, meaning & purpose, while remaining as independent as possible.
Media Contact
Company Name: Dementia Care Warriors
Contact Person: Veronica Shanklin
Email: Send Email
Country: United States
Website: https://www.iamacarewarrior.org/