Metacenter Therapeutics entered K-Nutrition global market with "KF140 Lactic Acid Bacteria, Demonstration of Glycotoxin Reduction"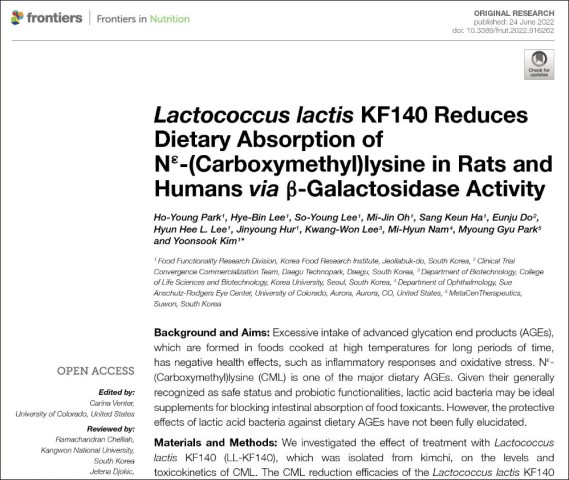 Metacenter Therapeutics (CEO Park Myung-kyu), a new glycotoxin drug development company, has proven the glycotoxin-reducing efficacy of KF140 lactobacillus, and has decided to start aggressive marketing from 2023 to enter the global market from North America to Europe.
In June 2022, Metacenter Therapeutics said that the research results of Lactococcus lactis KF140 (hereinafter referred to as KF140), a probiotics material that reduces sugar toxin, were published in the SCI-level academic journal 'Frontiers in Nutrition', and that 'AGG Lactobacillus V3' It was also a good response to the effect of improving human constitution by applying KF140.
This paper is a study on Lactococcus lactis KF140, a type of lactococcus derived from kimchi, a K-FOOD traditional Korean food. It showed the effect of preventing CML decomposition and absorption in the body.
In addition, by reducing the absorption of glycotoxin, which acts as an inflammatory factor in the same paper, it showed a significant decrease in the liver inflammatory index, ALT and AST, LDL cholesterol, and glycated hemoglobin (Hba1C) levels.
The company said, "Advanced Glycation End Products (AGEs), called glycotoxins, refer to substances made by combining sugars with proteins, lipids, collagen, etc., which are included in the food we eat, especially baked and fried. It is contained in a lot of food," he said. "The sugar toxin accumulated in our body through food acts as an inflammatory factor and can affect various metabolic diseases such as atopy, diabetes complications, and non-alcoholic fatty liver."
"We were able to confirm the potential of KF140 as a material that can suppress and improve the effects of glucose toxin, which is the basis of metabolic diseases due to the side effects of irregular living habits in the busy daily life of modern people." A large number of researchers are conducting clinical trials for fatty liver disease related to metabolic abnormalities."
Media Contact
Company Name: Metacen Therapeutics Co., Ltd.
Contact Person: Won Hee, Choi
Email: Send Email
Phone: +82-31-1577-6264
Country: South Korea
Website: www.metacen.com