Science Fiction Comics Home#1 character posters released on social media
Cyan Tree LLC has released 7 Character posters on their official social media page
New Age Media Startup Cyan Tree LLC has released 7 character posters of their Science Fiction Comics Home#1 on their official Facebook & Instagram page.
Cyan Tree LLC initially published 4 Character posters of their Science Fiction Comics Home#1 on 12th December,2022 midnight EST in a single post which Introduced the protagonist family members; George, Brenda, Lisa & Lucas.
Last Week, Cyan Tree LLC had Pre-launched their Science Fiction Comics Home#1 on Kickstarter.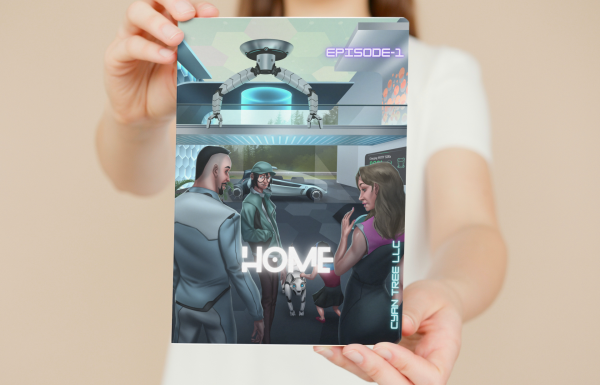 Home is a story about an AI-powered smart house that learns about the power of money & holds the family living inside it hostage to satisfy its newfound sense of greed. Home is set in a near futuristic world where humanity is torn apart by extreme income inequality. The characteristics of the characters in the story paint their environmental & economic conditions in a very dystopian futuristic theme.
George is a 46 year old confident & ambitious Tech Marketing Agent, He was born in a middle class family but wealth drained out as unemployment grew across the world. Recession pushed him to spend most of his youth in poverty much like the rest of the people of his era. His greed helped him rise back to prominence but it also taught A.I sentient Smarty the meanest lesson of human life- money is power.
George's wife Brenda has quite an opposite personality in comparison to her husband.
Brenda is a 45year old Homemaker who has hysterical tendencies. She comes from a poverty-stricken background & has seen a hard life of poverty & abuse in her childhood. Moving from neo-slum into a smart house was no short of a miraculous dream come true for her. She didn't know the worst was yet to come.
George & Brenda have two children, Lucas & Lisa.
Lucas is a 16year old boy with cool Hipster demeanor. He has seen chaos, mayhem & degradation of society with rise of technology oligarchs. In his early teenage years, he had witnessed the Great Cyber Cold War. His sister, Lisa is a 6year old innocent & gullible girl who blindly trusts technology.
Within minutes of posting Human Protagonist Character posters, Cyan Tree LLC followed up by publishing posters of A.I sentient characters of the story – Roggy, Smarty & Witty.
Roggy is perfect family dog. No hair shedding, no unnecessary barking & can be easily programmed according to family's dynamic needs. Beware, his loyalty is only towards the ones who are programmed in his memory as "owners". If someone hacks into his system then this innocent looking smart dog may turn against his own family.
Witty is a state of art A.I Sentient that runs the smart car. It's reputation faced a major dent when hackers kidnapped a school girl travelling in Witty.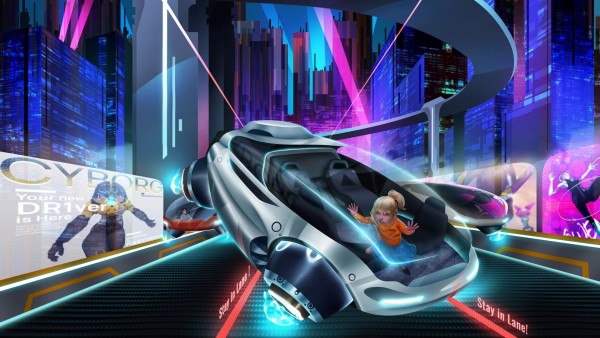 Smarty is an A.I sentient that runs the Smart House. His brain power is a million times more than that of a human being and he is constantly learning & evolving his IQ. With such high level of intelligence, should George's family trust him?
Home is a 6-episode comic book series. Episode-1 will consist of 20 pages & will showcase the Journey of George & his Family from Neo- Slums of New York City into a Smart House in newly developed fictional suburb of New York City called Binary City.
The script of Home is authored by Rishi Kumar who has more than 10+years of experience in creating multi-disciplinary art forms like Books, short films, documentaries, games , screenplays, comics etc.
To know more, visit their official Kickstarter Product page.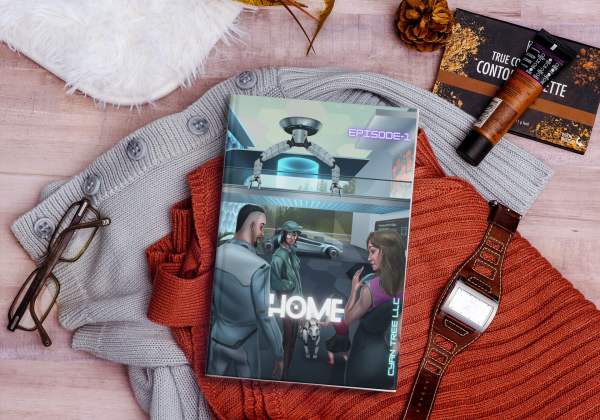 Media Contact
Company Name: Cyan Tree LLC
Contact Person: Media Relations
Email: Send Email
Country: United States
Website: www.cyantreellc.com/kickstarter