London Diaspora Pop Up Show & Network Event – Multi-National Investment & Business opportunities
Welcome to NU9 Empire Network we are hosting a London Diaspora Pop Up Show & Network Event at Streatham Library on Saturday 25th January 2023 at 10am to 4pm. All members of public are welcome and free tickets are available here: https://www.eventbrite.co.uk/e/london-diaspora-pop-up-show-networking-event-tickets-554805095977?aff=ebdshpsearchautocomplete (donations are welcomed).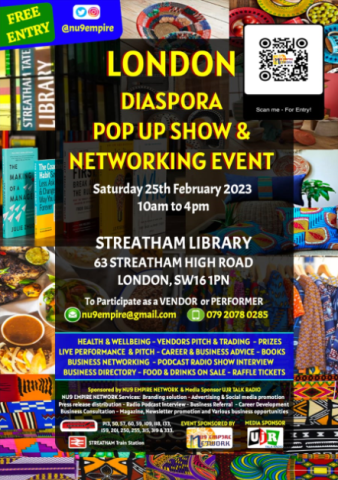 This will be the second event for the year as the first one showcase on 21st Jan at Streatham library. There will be a London tour hosting an event in all 32 London Boroughs, celebrating Black Businesses, Professional and Creatives in this Great City of London. Lambeth has been chosen twice as it has a large black population plus it is the focus points on embracing Black culture, heritage and businesses.
The event is free to attend and everyone is invited. The London Diaspora Pop-Up will be Celebrating African and Caribbean Heritage, Culture and Entrepreneurship in the UK and Worldwide. The event will include free advice from professionals and networking opportunities.
Event includes:
Networking, Food on sale, Live Vendor Pitch, Traders, Free Career – Business Advice, Business Pitch for public, Prizes to be won and Raffle ticket on sale. A friendly relaxed environment. Bring along your business card, flyers and more.
The aim of the London Diaspora Pop-Up event is to showcase London to other UK cities and the world as a fair and multi-national city which offers Business opportunities and is the place were Dreams become a reality. Also, to give a voice to Black businesses who are at greater disadvantages and have consistent challenges.
The event will be sponsored by NU9 Empire Network Ltd and Media sponsor UJR Talk Radio Show.
To feature information on future events or to support NU9 Empire Network email [email protected]. Article written by Nu9 Empire Network Ltd.
Media Contact
Company Name: NU9 Empire Network
Email: Send Email
Country: United Kingdom
Website: https://www.eventbrite.co.uk/e/london-diaspora-pop-up-show-networking-event-tickets-554805095977?aff=ebdshpsearchautocomplete