New memoir "81 and Still Learning" by Kathryn Fallon Cameron is released, a collection of wisdom gathered over a long life and encouragement to continue growing at any age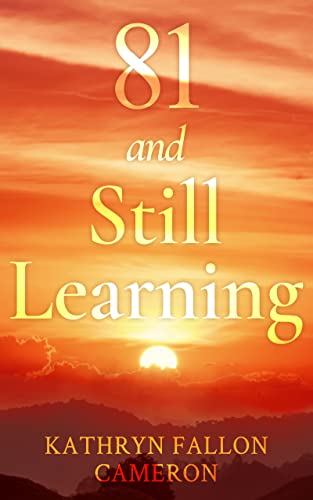 "81 and Still Learning" by Kathryn Fallon Cameron has been released worldwide. This 96-page book is part reflective memoir, and part personal growth guide. By sharing her experiences, life lessons, and observations about the world, the author presents a condensed, joyful message of self-discovery and lifelong learning.
With a background in education, Cameron's warmth and dedication to helping others grow shines through in her writing. Her stories are endearing and humorous, each containing nuggets of wisdom about family, self-acceptance, love and loss, learning from the past, and ultimately, living a good life with what you have.
From childhood through post-retirement exploration and learning, Kathryn teaches readers about patience, persistence, and "standing on the shoulders of giants." She pays homage to the teachers in her own life and recognizes the interconnected pieces of her story that made her the woman she is today.
This lighthearted and inspiring memoir is a window into the wisdom gained over 81 years of life, and reading it feels like receiving advice from a cherished friend. These ideas are universal, and this unique book truly contains something for everyone.
81 and Still Learning (ISBN: 9781960142917) can be purchased through retailers worldwide, including Barnes and Noble and Amazon. The paperback retails for $14.95. Wholesale orders are available through Ingram. Review copies and interviews are available upon request.
From the back cover:
Kathryn Cameron believes every life is a story that one can learn from. She explores her learnings from others as applied to her life. Much of her learning about leadership took place after she retired, and it is her intent at eighty-one years of age to share the learnings that may be of value to others at an earlier time in their life, including her grandchildren. Her musings on subject areas such as pro-choice and pro-life, the LGBTQ community, and faith are thought-provoking. Her memories of her life growing up are sure to entertain and to communicate to the grandchildren who this person is and was.
About the author:
Kathryn Cameron spent over thirty years as a teacher and educational professional. She accepted a challenge from her son to share her wisdom in 81 and Still Learning. Her motivation for the project came from a deep desire for her grandchildren, especially, to know her, her values, and her story in this unique way. Kathryn enjoys duplicate bridge with her friends and online. She lives in Virginia with her husband, Jim, and their rescue cat, Simon.
About MindStir Media:
MindStir Media LLC is an award-winning book publisher. To learn more about publishing a book with MindStir Media, visit http://mindstirmedia.com or call 800-767-0531.
Media Contact
Company Name: MindStir Media LLC
Contact Person: Jen McNabney
Email: Send Email
Phone: 800-767-0531
Address:1 New Hampshire Ave Suite 125
City: Portsmouth
State: NH
Country: United States
Website: https://mindstirmedia.com/