"My Product Today" Announces the Release of "the Stove Top Cover" Designed by "KitchenLove Kitchenware"

"My Product Today" is pleased to announce their new product, The Stove Top Cover. The Stove Top Cover is a product designed by a company called "KitchenLove Kitchenware" and is manufactured by my "My Product Today". The stove top cover is a bamboo cover that goes over a stove's burners to be used as a cutting board, decorative piece, or just to have more counter space in your kitchen. The stove top cover fits all standard stoves.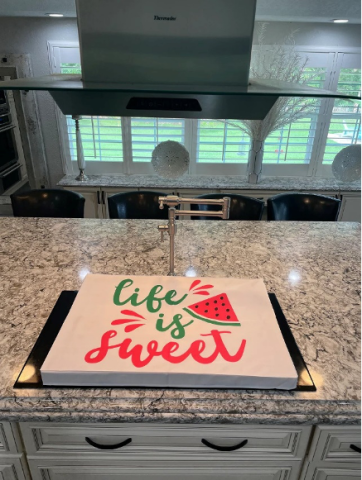 One of the special things about "KitchenLove Kitchenware" is, their products are sustainably sourced. Since their products are not made of precious wood timber, the difference in sustainability makes the world many times better.
In addition to protecting your stove, this Kitchen Love Kitchenware Stove Top Cover doubles as a cutting board whenever you need one. The aim of Kitchen Love Kitchenware is for the environment and our usage of premium bamboo makes them proud. The material they pick won't damage pandas because it isn't a food source or habitat for any of them in this world. The stove top covers we offer are durable and secure. During assembly, only formaldehyde-free, food-safe glue is employed. The color is permanent and won't fade or wash out; neither dyes nor stains are employed.
"This is an excellent product. It's a perfect fit on my stove and I like that it fits between the side edges so it's down low and away from the burners next to the griddle." MS Sandra from the United States says about the product.
To buy and know more details about the product: https://kitchenlovekitchenware.com/products/kitchen-love-kitchenware-stove-top-cover
About "My Product Today"
Great product ideas are used by My Product Today to develop even better products. Searching out cutting-edge product concepts from around the globe while only focusing on those customers the globe while only focusing on those that customers actually want. If a product is chosen by "My Product Today", further design, development, prototyping, testing, production, and distribution follow all the way to the well-known and adored websites and shops. The My Product Today Design Team has years of experience and brings the same level of expertise to individual items as it does to businesses that are widely recognized around the world.
"My product today is a company that has a great service team that is valuable as well as appreciated the team always interacts with me by providing me with good information, suggestion, and personal experience which is good for the product and whenever there's a question that needs to be answered that come up during this process, the team response is immediate, the company keeps me updated regularly." Ms Cheryl Waller says about "My product today"
Media Contact
Company Name: My Product Today
Contact Person: Ricardo Valederrama
Email: Send Email
Country: United States
Website: https://myproduct.today